Shaky
May 22, 2013
The familiar feeling creeps back into my stomach, burning its way through my belly like my body is furious with me. What did I do to you? Eat? Is that what you're angry about? Well, I can't just not eat. I'm not that kind of girl, I don't want to lose even more weight...
At first the doctor thought it was a gastrointestinal virus. Which it may very well have been, if it didn't last for 6 months prior and continued for 3 months after. We ran tests. Humiliating, gross tests that involved me pooping in a box and sending it to a lab - something my dad still won't let me live down. They came back negative, every single test, and they ran every test they knew.
But I'm still here, internally combusting. So I don't eat. I look at food, stomach grumbling, but won't touch it. It comes out of my body too quickly, mouth or otherwise, and I get weak again. Once I couldn't stand up without blinding vertigo for a whole month. I didn't choose this. I didn't really plan on having a body that rejected digestion and rid myself of food so quickly that I can't absorb nutrients.
But that's what I have. The shakes return, the vision gets blurry, and I sit on my bathroom floor or hide under my covers, trying to calm down the fire in my belly, usually to no avail. My parents don't know how to help, they just look on with pity when I have to run to the restroom within 5 minutes of my first bite of dinner. What's the point of eating when I don't even finish tasting it before it sets my body on fire?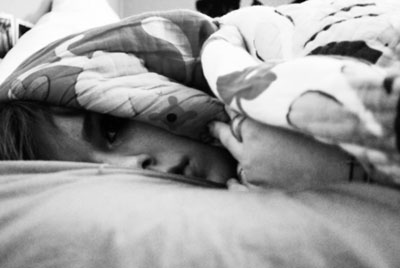 © Erin H., Carrollton, TX