Luke's Story
MAG
September 17, 2008
In your life you go through those defining moments that make you who you are. I have had lots of these. Most are silly, embarrassing, crazy, or too far out there to understand. However, there is one moment in my life that stands out more than any other and shaped me into who I am.

***

Fall was just around the corner; for me that meant sixth grade, and for my brother, Luke, that meant high school. We had a cookie-cutter life. Then the unexpected happened. On August 13, 2003, my brother became very ill. I can still hear him screaming in his room. I remember running to help him all through the night. Luke would thank me for checking on him and then say, "It's okay, Niki. I just had a bad dream."

Then my dad found him on the floor having convulsions. I can clearly remember loud, swift footsteps and confused yelling outside my bedroom door. I had never been so terrified. My mother burst into my room and shrieked at me to wake up. I jumped out of bed, ran into the living room, and tried to call my grandma. My hands were so shaky that it took me four tries to dial her number. When she answered, all I could do was sob.

The next thing I knew I was in the car, with my dad speeding and my mother in the back seat holding Luke, who was screaming and convulsing. Soon the four of us were in the emergency room, and Luke's clothes were ripped from his struggling body. He didn't make a sound, just shook violently.

The next five days were the weirdest of my life. Luke was in a coma, occasionally having seizures. He lay still most of the time, looking pale, his lips around tubes and ventilators. He could no longer depend on himself to breathe. My family was devastated and broken-hearted.

The doctors thought Luke's paintball bruises were a symptom; they thought he had been using meth; they thought he had some type of herpes; they thought he had SARS. It hit me when the doctors pulled Dad, Mom, and me aside that I was no longer a child. I was old enough to know my brother's fate, no matter how horrible. Finally, Luke was diagnosed with encephalitis, which is an inflammation of the brain. We were told that his chances of survival were small, and he would likely have brain damage. No one knew if he would wake up in two hours, six months, or 20 years.

I remember seeing my dad break down and my mother's face sicken. I felt horrible; I knew I would never be enough to fill the gap that Luke would leave behind. He was the kind of person everyone admired. I remember hugging my relatives, trying not to cry. Someone had to stay strong. I felt it was up to me.

Then, like magic, Luke beat the odds and woke up. As happy as I was, I noticed it wasn't my brother in that body. He looked the same but was completely different. His eyes were glassed over, and he had a fogged expression on his face. He was disoriented and had hallucinations. He tried to crawl out of bed. He thought everyone was a robot, everyone but me. I remember him yelling my name every time I walked into the Pediatric Intensive Care Unit. He would tell me the strangest stories, and he forgot random words and names.

Then they moved him to his own room. My friends and family lined the hallway to visit. Luke sat in bed and ate a candy bar. Unable to recognize any of the faces, he stared deeply into each person's eyes. He told the nurse he didn't know who these strange people were. When I entered the room, his eyes locked on mine and he waved. I've never admitted it before, but I was glad I was the one Luke remembered.

He was released from the hospital shortly after I started sixth grade. Over the next several months, Luke underwent rehabilitation. I remember doing alphabet flashcards with him. He had forgotten how to read and write. Sometimes he forgot words like "hand" or "banana." But slowly, he began to retain information. He would forget a few letters and substitute things like "jellyfish" in their place. Eventually everything crept back into his mind like nothing had ever fallen out. He started his freshman year in January 2004, not exactly his former self.

The recovery period was difficult for everyone. Luke slept with a baby monitor in his bed, and every time he talked in his sleep I would pray he wasn't sick again.

I remember feeling left out. My parents were constantly forgetting about me. I was always told to be quiet if Luke was sleeping or had a headache. He would forget things, like how to catch the bus home from school, and it would frustrate me. The kids in my class picked on me. I was the quiet girl who was too mature. I isolated myself and had few friends. I became very timid. I knew why all of this was happening; I just didn't like it.

The hardships of a mental disability are just as difficult to overcome emotionally as physically. Even though it was not my disability, it affected me deeply. The kids I met in Luke's therapy sessions pulled on my heartstrings. Many were missing half of their skull, part of their brain, or segments of their face. I continue to feel very connected to people with brain disorders.

Luke's story is miraculous. He not only beat the odds by surviving, but today, he has no remaining disabilities. He is a college student and has a job. This experience was difficult for everyone in our family, but without it, I wouldn't value the most important person in my life as much as I do.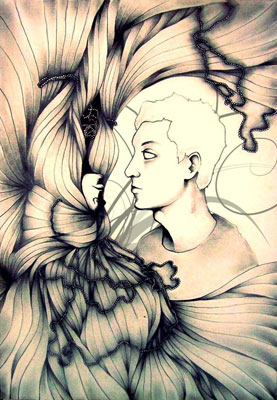 © Victor K., Las Vegas, NV