To Tan or Not to Tan
MAG
Dana Lepow was 21 when she noticed a mole the size of a pencil eraser on her chest. After visiting the doctor she learned that she had a form of skin cancer known as melanoma. The mole was removed and she thought she wouldn't have to worry anymore. Unfortunately, ten years later, Dana noticed a change in her peripheral vision and learned once again that she had melano-ma, this time in her eye. Dana had to have a radiation patch sewn onto her eye for eight days. Six years later, Lepow heard her third cancer diagnosis when a melanoma was found on her left hand. (cancerwise.org)

Like many teenagers, I enjoy going to the tanning bed once in a while. Every year about 28 million people visit a tanning bed and approximately 50% of high-school girls claim they have been more than once. Is having the perfect tan worth the consequences it could mean in the long run? Dermatologists claim that tanning beds can cause skin cancer, eye problems (if goggles aren't used) and premature aging. Every year about one million people are diagnosed with skin cancer. One study suggests 90% of these cancers are due to tanning facilities. The UV rays absorbed in a tanning bed contain three times more intensity than the sun, so 20 minutes in a tanning bed gives you as much exposure as a day at the beach.

Some argue that indoor tanning has its benefits. For example, some studies claim that tanning beds help your body produce vitamin D, which can help prevent other types of cancer including prostate, lung, breast, colon, ovarian and pancreatic. Many dermatologists argue that you can get the amount of vitamin D you need from natural sunlight and food. One doctor claims it only takes ten minutes of sunlight three times a week to get the necessary amount of vitamin D.

Many states are considering a "tan ban." In Ohio, the "Nassau Law" was recently passed so that those under the age of 17 must have a parent's consent to go tanning; violators will pay a fine of $500. Studies show that 80% of skin damage is caused before the age of 18. Lawmakers are hoping that this law will discourage young people.

There are alternatives to tanning but none seem to produce the same results. Tanning creams and gels are available, but some can leave your skin an odd shade of orange. You can also get a spray-on tan, though there is speculation that these chemicals can cause cancer as well.

Tanning beds are designed to give you a tan in a short amount of time. Therefore, spending a day in the sun is just as dangerous as going tanning for 20 minutes. If you are planning on spending time outdoors dermatologists suggest wearing sunscreen with SPF of 15 of higher. For now it seems that there is simply no safe way to get a tan.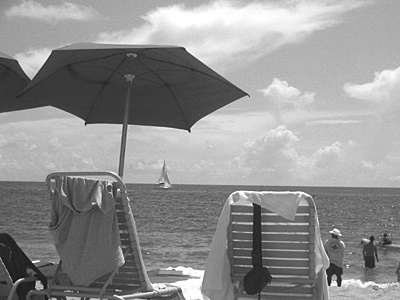 © Emily O., Boynton Beach, FL