Cancer
MAG
I'm looking in the mirror I've put right above the computer so I can see myself when I want to be inspired. My reflection is not like most teenagers.

Before the change, I wasn't like any of the popular girls anyway. My hair was black, not bleach blond, and my eyes were gold, not green or blue. I wasn't athletic; I was weak in the legs. But none of that matters now. If I can get up to go the bathroom without help, that's good. My hair isn't black anymore; it's gone. My eyes aren't gold anymore; they're faded and pale. As for my legs, well, they aren't just weak - I almost can't use them anymore.

Why did my life go this way? I'd been having headaches for a year and they were getting worse. The painkillers weren't working anymore and I was scheduled to have a CAT scan. I wasn't scared, thinking it was just routine.

I was wrong. A few days later I had more tests that confirmed I had a brain tumor. At first I was in shock, like everyone else. Then I realized this could kill me. I was frantic, searching for any and all information about my condition. At last I realized that I had to be strong to beat it, which I had never been.

When they started the chemotherapy, I was sure I was going to die. I had already thought about who would get my possessions. The chemotherapy felt like it was killing me; when my hair began falling out, my aunt shaved it all off, and I was even more sure that the chemo was just killing me faster. I had no strength; I had nothing.

The best news of my life was learning that the tumor was no longer malignant. I wasn't going to die. I reacted in the same exact way I had to my diagnosis: shock, then panic that they were lying, then the greatest happiness that my frail body would allow. I remember saying over and over, "I'm not going to die. I'm not going to die."

I am still weak, but I'm feeling better with each breath, with each beat of my heart, because now I know that I'm alive and nothing can ever make me doubt myself again.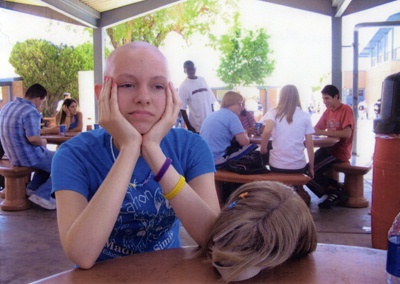 © Lauren M., Phoenix, AZ