You Have to Tell
MAG
He called me into the moon-lit room. I went, not knowing what he was about to do. Was he going to give me candy, ask me to help clean up, or do something that no cousin should?

When I walked in and saw that the light was off, I wondered what was going on. He stood in front of me and I felt something rubbing up against me. He started to kiss me and I pulled back but he kept on. I couldn't believe this was my cousin, my own cousin, doing this. I noticed that he was wearing only boxers. He kept doing things to me and I could not move. Then I could feel a very sharp pain, like a thousand thumbtacks beating me.

"No! Stop! No!" I yelled. He stopped. The pain went away and I was so relieved but couldn't get up off the floor. I was shaking.

I finally stood and when I opened the door, he was right there waiting for me. While saying "I'm sorry, I won't do that again," he stretched out his hand for me to shake. I just looked at him with a hard look. When he left me in the hallway, I ran to the living room and out the door.

I didn't tell anyone for two months. I regret waiting that long.

When something like this happens, you have to tell. We went to court and my cousin got 15 to 35 years in jail. This split my family apart, and now I can't see my little cousins, or anybody else. The only people I have left are my parents, my sisters and brother. My grandmother was on his side, too, so I don't see her either.

To all the girls this has happened to, you need to tell. Don't worry about being embarrassed. Nobody should go through it and if you have, I know what you've been through. You're not alone.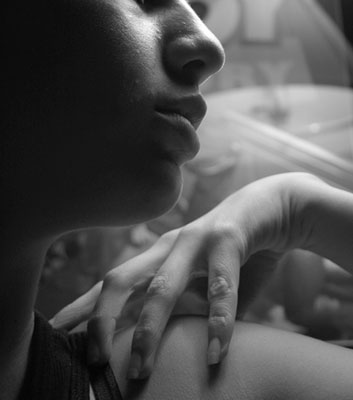 © Rebecca B., Santa Clara, CA