Organic Food
MAG
Growing up I never got to have chocolate milk or soda. While other kids brought grape jelly sandwiches on Wonder bread, I had whole-grain bread with turkey, cheese, lettuce and Dijon mustard.

These days, I make more of my own food decisions and I choose to eat healthy: salads if I can, juice, and organic food. Despite this, I cannot help feeling a little abnormal about how I grew up. Granted, I am not sorry that the idea of healthy eating was instilled in me at an early age. I know many who say they are trying to lose weight yet choose fries, soda and a bag of candy for lunch, which makes me shake my head and want to rip something apart (a common reaction to ignorance).

But during my teenage years, I find myself irrationally floating toward Gushers, Fruit Rollups, and sometimes - out of morbid curiosity - Spam. I think it's an odd type of pent-up childhood junk-food deprivation trauma. Having been denied all these processed, more-chemical-than-natural foods, I seem to be trying to compensate with cravings that hit at the oddest of times.

The first semester freshman year I was in algebra, the class that interested me the least. While zoning out, a craving hit me between the eyes like a drunken bat strapped to a lead propeller blade. Breakfast sausages, I thought. I must have breakfast sausages! By the time the bell finally rang, I was so limp from deprivation that my friend drew a sausage and had me follow it out of the classroom.

I made a frantic call to my mother, begging her to pick up sausages on her way home. The next day, I carried a Ziploc bag of said sausages with me the entire school day, just in case.

Thankfully, such a craving has not hit again and, except for going through a Spaghetti-O's phase, I've been basically process-free, and like it that way.

My healthy eating habits are one of my greatest strengths, and that's not going to change. I may have felt weird sitting in the cafeteria eating whole grain as a kid but now, when the national media is screaming about childhood obesity, I can take a bite of my organic tofu salad, and smile.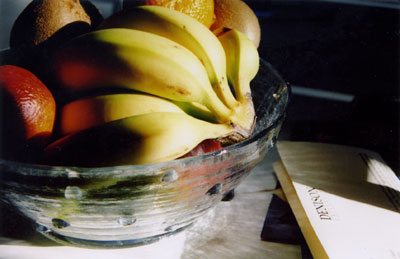 © Marty H., Bethesda, MD