Spine Betrayal
MAG
I felt as though my own spine had betrayed me as the doctors showed me the x-rays. There it was, in black and white, an illuminated image of my backbone twisted in a sinister backward S shape. All these years I had been living with an abnormal back, and it was almost too late for help. Had it been noticed earlier, surgeons would have been able to insert a metal rod to support my spine and counteract the crooked direction it had been growing. However, I was 16 and my bones had already fused to form a perfectly working (albeit slightly irregular) adult skeleton. There were only two options: do nothing and hope for the best until osteoporosis inevitably set in 40 or 50 years later (after which there would absolutely no hope), or commit myself to the imprisonment of a scoliosis brace, which was as uncomfortable as it sounded.

If the choice had been mine, I would have steered clear of the second option. And, the decision should have been mine since it was my body. According to the State of New York, however, I was two years shy of being capable of making my own decisions, so the doctors turned to my mother, who said, "We have decided to go ahead with the brace." I felt my heart turn into a brick and sink to my stomach. I wanted to hate her for it, but I couldn't. I was too busy pitying myself.

A few months later I went to the city and pick up my brace from an orthotic rehabilitation office. I felt as though I didn't belong there; I was a healthy person, yet here I was in the fancy waiting room, staring at a wall of autographed headshots of former patients who were famous at some point. I barely recognized any of them. Some were stage actors and some were distinguished figures in society. One was a ballerina with her back completely exposed up to the delicate nape of her neck, signed "Thank you for making my back straight again!" Pondering the possibility of sending my own autographed headshot should I become famous, I was called in.

On the examination table was the ultimate symbol of the grief I would feel for years to come. Hideously ugly, the brace was made of steel-hard plastic polyurethane with somewhat-softened edges of beige moleskin. Leather pads had been strategically placed for the abnormal curvature of my spine, which would be the main source of discomfort. Velcro straps fastened it to my back, much like those used to hold strait-jacket bindings in place. All in all, it looked like a torture device.

I was reluctant to try it, and with good reason. As soon as the brace was in place, I gasped. The pressure on my ribcage was unbearable. I could feel my heart beating against the plastic. My lungs felt compressed to the point where they could not take in air.

I was trapped inside this device until I began to show positive results, and I was extremely pessimistic. The contraption seemed to cause more harm and pain than good.

The first few weeks were hell. It took a lot of getting used to: I couldn't bend over to pick up anything and I had to learn to breathe in short breaths. Then came school. I had to find outfits that would accommodate the brace, and that goal was met at the expense of fashion. My outfits usually consisted of roomy men's shirts, big jeans, and baggy sweatshirts. The upper leather pad behind my right shoulder made me look even more hunchbacked, causing some to stare. During class I would shift around because of the brace. I looked for a seat in the back so kids wouldn't notice me squirming. And, the school nurse prohibited me from sports. Being a competitive fencer, that was what I dreaded most. I had finally made varsity, and now was forced to sit on the sidelines.

The brace proved to be an excellent appetite suppressor, and this was what I had the most difficulty dealing with. I would take two bites and feel full, even when I was hungry. I had been reduced to an invalid with a mannequin's torso.

I couldn't eat, breathe, or sleep with the brace on. I was ready to give up when I began to show positive results. The curvature in my spine had decreased by a few degrees, and now I am allowed a few hours out of the brace each day. I'm not completely free yet, but learning to accept my situation has taken tons of courage. I've realized that my initial decision to leave the scoliosis untreated was cowardly, and I almost certainly would have suffered repercussions years later.

My brace has affected me in many ways; I've shed 20 pounds and my corrected posture makes me look taller. But most importantly, it has taught me humility and respect. Being a scoliosis patient can be difficult but it can be overcome with determination. Only then can we learn to accept ourselves as well as our abnormal curvatures.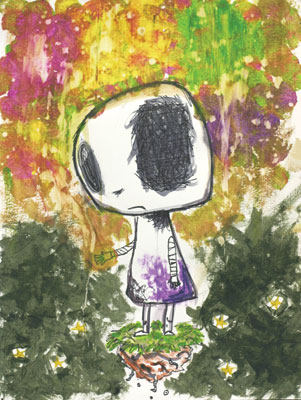 © Ashley W., Port Charlotte, FL