The Worst Year
MAG
At the end of fifth grade, I started throwing up a lot. The doctors thought I had a cold, but things got worse and X-rays showed that I had a very enlarged heart.

I went to a children's hospital in Salt Lake City and was admitted to the Intensive Care Unit. There, I was diagnosed with cardiomyopathy. A third of patients die from this, a third get better with medicine, and a third require a transplant. My heart was so bad they decided I needed a heart transplant. We waited in the ICU for three weeks but no heart came. I kept getting worse; at one point the doctors told my parents I had 24 hours left to live and took me off the transplant list.

On September 28, 2004, I was transported to another hospital so they could insert pumps to help run my heart. They don't usually use these pumps on children, but I was running out of options. This surgery took ten hours and while I was being prepared for it, my heart stopped. I coded, which means I actually died. They performed CPR on me until they could get the heart and lung machine hooked up and start the surgery. Those doctors saved my life.

The next day the flow on the pumps was low so I returned to surgery for adjustments. After a few days I started to be able to move around, but it was hard because the pumps were made for adults and quite large.

I had so much equipment that it took a lot of people to go for walks; it took a few just to push the machine that was running my heart pumps. The first time I tried, it was like learning to walk all over again. I was so shaky and weak that my body didn't work the way I wanted it to. I could only walk 15 feet at first, but each day I grew stronger and walked more.

During the next few weeks I worked very hard to get healthy enough to go back on the heart transplant list. On October 10, I was relisted. Two weeks later the doctors woke me up at 3 a.m. to tell me, "We got you a heart!" I was shocked and scared.

There was a problem getting the heart from Denver, Colorado, so they postponed the surgery twice before it finally arrived at 12:30 p.m. It was freaky to wait that long, knowing I was getting a heart from a teenage donor.

The transplant surgery took six hours. As soon as they got the blood flowing through my new heart, it started pumping without needing to be shocked to begin. That's unusual, and told me (and the doctors) that my new heart was glad to be in my body.

I don't remember much about the next few days because I was so medicated, but my parents told me that I reached down to see if I still had the pumps on my stomach and was very, very happy to find them gone.

A short time later, a nurse came to see how I was doing and discovered I could not move the left side of my body. My parents and I were pretty scared. My room exploded with doctors and they found that an air bubble had gotten into one of my veins during the surgery, causing a stroke. They put me into a compression chamber that was supposed to break up the air bubble and help me heal. It looked like a space rocket. I was there for five hours the first day but only two the next because my pressure was dropping and it wasn't safe.

I began to regain feeling in my arm and then I could move it a little, so I started physical therapy. Although at the start my face was droopy, it got better. I was afraid I would never be able to use my left side or do the things I enjoy - like riding my motorbike, walking, playing video games and sports - but every day things seemed to get better. My left side grew stronger, and they kept taking tubes out of my body so I was able to move around better. After nine days, the last tube came out and I could walk around without any for the first time in two months. I have probably had more than 100 tubes and IVs in my body. I was finally discharged on November 5, 2004.

The doctors told me that I had to live in Salt Lake City for at least three months to be near the hospital. In that time, I had many checkups, blood draws, and a cardiocath each week, which is when they pushed a tube with a pincher on the end down the vein in my neck and grabbed a piece of my heart to check for signs of rejection. It hurt a lot.

Now, I can do anything, including football, basketball and riding my motorcycle. I like to fly remote control airplanes and drive gas-powered remote control cars. I have learned to have more patience and tolerate pain better. A healthy body is something you really need. I also learned that it is important to spend time with your family because things can happen that interfere with that. I appreciate life a lot more.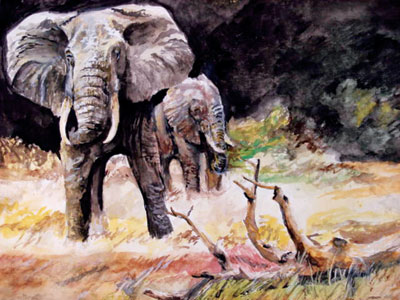 © Daniel A., Monte Vista, CO