Paleness Packs a Punch
MAG
When I was in eighth grade, all the cool girls had perfect tans, especially the blondes. I, on the other hand, was as pale as a ghost.

I was so self-conscious about my flour-white skin; I felt like a piece of white bread among the loaves of wheat. Everywhere I looked, magazines and television were telling me that tanning was in. Even my friends began to laugh at my pastiness.

Walking into a store one afternoon, I noticed a brown tube labeled "Self Tanner."

This may be my chance, I thought happily, and bought it. As soon as I got home, I exfoliated my skin as the instructions said, and applied the lotion liberally all over my body. I was going to be tan at last!

When I awoke the next morning I ate breakfast, took a shower, got dressed and put on my make-up. Slipping on my shorts, I realized my legs had a bright, weird sheen to them, but I assumed it was just the lighting. When I arrived at school, everyone was looking at me as if I were a madwoman. Their stares made me uneasy, but I ignored them and walked over to my friends.

"What happened to you?" Lauren asked in her usual blunt manner.

"What are you talking about?" I asked.

"You're orange!" my other friend, Ashley, giggled.

"I'm what?" I gasped. They dragged me into the bathroom and made me look into the mirror. They were right, I was as orange as a pumpkin. I screamed.

"What am I going to do?" I yelled. "I can't stay like this! As if I'm not enough of a freak already!"

"And you wore shorts today!" Lauren smirked.

"You'll just have to go to class like that," Ashley said. "No one will notice."

She was wrong. Everyone noticed, and they thought my so-called tan was amusing. I made it through the day and went home and tried to scrub off the wretched stuff, but it just wouldn't budge.

"I'm doomed!" I moaned. "I ought to just go be a sideshow at a circus, at least I could make some cash."

"You'll just have to go to school like that," my mother warned.

"It's the Great Pumpkin, Charlie Brown!" my sister crowed when she saw me.

"Oh, great," I cringed. "Call the Ringling Brothers." My mom and sister laughed.

At last, after days of scrubbing my skin, the tanning lotion came off. After that experience I learned to appreciate the color of my skin. It might not be tan, but at least it's not orange.

Years later, I can laugh about the infamous "tanning" incident, but I won't forget the lesson it taught me: love the skin you're in. I may be Casper the Friendly Ghost, but at least I'm not killing myself roasting to a crisp in the sun. I learned that you shouldn't try to change yourself to fit in. Every day when I catch up on the news, I realize that there are many worse things in life than being pale. I could have no legs, be on the brink of death, or be in some dire situation. It makes me feel really stupid and immature to think that at one point I was worried about not being tan.

Some things have not changed since I was in junior high - you still need to look a certain way to be accepted, which is not right. My tanning incident informs the choices I make daily. When I want to do something just because my peers are doing it, I think about the tanning mishap and reconsider. I've learned that the choices you make today are the ones you will live with tomorrow. This incident serves as a reminder to love my body regardless of its shape, color or weight. It helps me move and get around and most important, it keeps me alive. I do not want to sacrifice my health just to look like other girls in my class.

Today, I am still pale but proud of it! I've become more confident and realized that my eighth-grade insecurities were trivial. I try to not go with the crowd and instead listen to what my heart is telling me. Maybe one day, having a fair complexion will be in, but for now I'm staying that way. Besides, I like being a piece of white bread among loaves of wheat.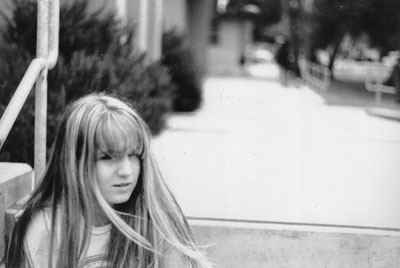 © Alyssa R., Pacific Grove, CA