A Light in the Abyss
April 29, 2012
Between the ages 16 and 17 I was in a rather dark place.

A dark world with black water that I was struggling to get out of, yet heavy weight on my shoulders kept dragging me down.

I had almost reached the bottom of the abyss before I decided that I was tried of trying to resurface. So I made an awful decision on how to end it, a decision that – for me – wasn't right at all. Luckily though, I manage to come to my senses before I left so much as a scratch on myself.

So I continued to live in the abyss and hoped that everything would just solve itself. At this point I found something that help me and gave me something to work for: I found Narnia.

True, I had seen and read the Narnia series before, and I have always loved them. But now I found something in them that I hadn't before and I was determined to work for it.

Now I'm sure you think I found God, but that is not the case. I am not a believer but I respect those who are and I do find religions rather interesting. But I'm not going to talk about religions, I'm going to tell you what I found; I found a light, and more importantly I found a family.

When I say; 'I found a family' I don't mean that I would just imagine myself into a fictional family. No, I mean that I found a family with bonds and relations that I wanted in my own family.

Looking at the Pevensies, I always related to the youngest boy: Edmund.

Why?

Because he was an outcast in his family, someone who felt like they didn't belong, just the way I felt in my own family.

So I found the light in the darkness. To work towards a better relation with my parents and my sister, to fix our strained bond, just like the Pevensies repaired their relation with each other.

But I realised that I couldn't do that in secret, I couldn't live alone in the abyss while trying to work towards my goal. So I did the thing I feared the most…

I told my family how I felt.

In my head I had gone through so many different scenarios how it would play out, all of which turned out to be false. They were caring and understanding, they didn't judge me for the problems I also had outside the family, and what matters the most: they wanted to help. They helped me find someone to talk to and turned their whole life around in order to repair what had been damaged.

Narnia still remains as my light, and whenever I feel down I just watch it to remind me what we all are now working towards. My family even supports my love for Narnia and understands that it helps me, so they never judge me for watching it over and over. Last year for my 18th birthday I received something truly special to me from my family: a necklace.

Not just any necklace…well to someone who doesn't know it would just be like any other necklace, but to me it was a way to bring the light with me everywhere; it was one of "Bob Siemon Designs" Narnia inspired necklaces that were released back in 2005. I received the lamppost pendant and in every box they also send a note with the meaning of every pendant.

The one for the lamppost is: The light of love, that shines so bright, will always bring us safely home.

A light that shines brightly, and guides me on my way out of the abyss, that brings me back home.

So why am I talking about this?

Nowadays I met different people who are struggling at the bottom of the abyss just as I did, and just like me they have decided to keep quiet about their struggle.

I want them to speak up, say that they aren't feeling well, before it's too late. There is no point in hurting yourself, find someone to help you; I'm sure that there is at least one person who would listen.

And to have something to fight for and work towards really helps, whether it's your family, your religion or something else.

Don't live in silence, find something to work for and stick to it, and find your way out of the abyss.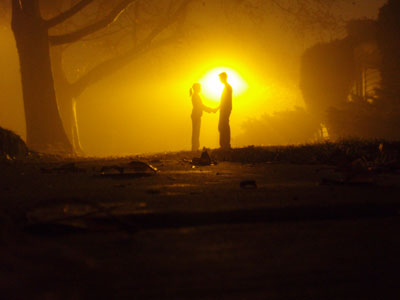 © Tanner H., Kaysville, UT