Vegetarianism: A Healthier Life for All
January 29, 2012
By definition, food is any nutritious substance that people or animals eat or drink, or that plants absorb, in order to maintain life and growth. For the average person, however, this is not what they refer to as 'food.' The average American, on a daily basis, consumes some form of meat, fish, or poultry, which have all been affiliated with cancer and chronic diseases. Being a vegetarian could significantly decrease risks of such health problems. Merits of vegetarianism include personal health benefits, proper ethics, and environmental care.

Being vegetarian is beneficial because it prevents numerous diseases and deficiencies. According to a study from Princeton University's Animal Welfare Society, Vegetarians are between 25 and 50% less likely to suffer from certain types of cancer over their lifetimes than meat eaters. Cancer has not yet a cure, but it can be prevented by maintaining a healthy diet. "An ounce of prevention is worth a pound of care." Staying healthy means becoming a vegetarian.

Vegetarianism also accounts for proper ethics. The idea of deliberate destruction of animals is heartbreaking. Factory farming, the mass production of animals, is beyond unethical. Animals are forced to reproduce quickly to satisfy the needs of ignorant people. In a research for "Change," Stephanie Earnst discovered that each minute, 19,000 animals were slaughtered for food. This is unnecessary when there are numerous meat supplements in the market. Without a doubt, vegetarianism displays proper ethics.

Becoming vegetarian could also affect the environment. The conservation of fossil fuels is outrageous. According to the Vegetarian Diet Program of Britain, it takes 78 calories of fossil fuels to produce 1 calorie of beef protein; 35 calories for 1 calorie of pork; 22 calories for 1 of poultry; yet it takes just 1 calorie of fossil fuels for 1 calorie of soybeans. Eating plant foods instead of animal foods helps conserve our minimal non-renewable sources of energy. Vegetarianism could also save the forests. In tropic regions, forests are destroyed daily to create more acreage to raise livestock.

As stated in the aforementioned points, becoming a vegetarian is much more than the typical "saving animals." The meat industry has been a significant threat to people due to its mass consumption of resources, and the foods people eat nowadays have no nutrition in them. Being a vegetarian may be a small act for an individual, but it has a large impact on the environment. Be a vegetarian; save the world.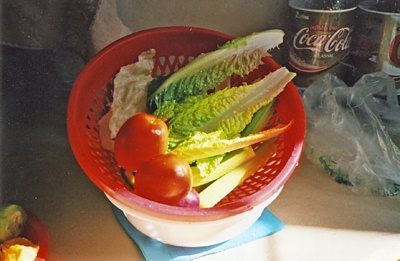 © Amnah R., Mandeville, LA