Milk: Friend or Foe?
February 24, 2011
Today, the world is finally becoming health conscious and people are beginning to read the nutrition labels placed on foods. But nutrition labels won't tell you about any possible health problems caused by the food you are eating. Milk has constantly been promoted over the years as the 'wonder' drink. Milk is said to provide Vitamins A, D, E, K, B1, B2, B6, and B12. It also is said to have Sodium, Potassium, Chloride, Calcium, Magnesium, Inorganic Phosphorous, Citrate, and Phosphate. But I just looked in my refrigerator and I could only find Vitamin A, C, D, and Calcium on the label. So, maybe there's more to milk than we think. Maybe there are secrets hiding in that distinctive milk jug. Maybe cow milk isn't healthy for human consumption. Why don't we find out?

When I looked at that milk jug I noticed something else. Milk doesn't contain Iron. Since Iron is essential for our bodies to grow and develop, children who drink too much milk don't get enough Iron into their systems. Also, the proteins in milk can irritate the child's digestive tract. This leads to bleeding and, subsequently, the loss of more Iron. Eventually this can lead to Iron Deficiency Anemia. That means that our bodies don't have enough Iron to produce red blood cells. For children this can be an extremely serious disease and this is one of many conditions that milk can contribute to.

My little sister is crazy about milk. She has been ever since she was a little girl. She used to drink so much milk per day that the doctor actually had to make my mother limit her intake. Not only was she at risk of Iron Deficiency Anemia but she drinking so much milk that she wasn't eating enough food. The milk supplied the calories she needed for the day. Unfortunately, milk is not a balanced drink.
Milk contains high levels of fats and cholesterol. It doesn't contain any complex carbohydrates or fiber. Overconsumption of fats and cholesterol can increase blood cholesterol and can lead to heart disease. Back to the milk jug, we have eight grams of fat overall, five grams of saturated (bad) fat, and thirty-five grams of cholesterol. The label also says that the milk has only twelve grams of carbohydrates (eleven grams of which are sugars). When you get down to the essential facts on the nutrition label, milk is not good for our bodies.

Speaking of milk's essential facts, Calcium is one of milk's most touted qualities. People say that it will help prevent osteoporosis, cancer, relieve PMS, and improve cardiovascular and oral health. That may be true but milk isn't the place to get your Calcium. A cup of Calcium fortified orange juice has the same amount of Calcium as a cup of milk according to a study by CDC in 2007. A study by USDA in 2005 showed that a taco had more Calcium than milk. That same study showed that breakfast cereal had over four times the amount of Calcium than milk. Not to mention, the Physicians Committee for Responsible Medicine stated in 2007 that 'Calcium is readily available in sources other than dairy products. Green leafy vegetables, such as broccoli, kale, and collards, are rich in readily absorbable Calcium. Many green vegetables have absorption rates of more than 50 percent, compared with about 32 percent for milk...' and Stephen Walsh, PhD, also said in 2007 that 'Dairy products are not the best source of Calcium as they cause Calcium losses at the same time as increasing Calcium intake. A third of the Calcium absorbed from milk and more than two thirds of the Calcium absorbed from cheese is wasted this way.' So, is milk really the best source for your Calcium?

Lastly, I would like to address an extremely serious topic. Cow's milk contains the hormone rBGH (synthetic bovine growth hormone) which will increase the levels of the hormone IGF-1 (insulin-like growth factor) in humans. This hormone helps our bodies to grow when we're babies and it is naturally found in our blood. The increase of the levels of IGF-1 stimulates the growth of cells that eventually are transformed into cancer cells. Even milk that doesn't contain rBGH still contains IGF-1 which will also lead to cell growth and cancer. Cancer doesn't have a straightforward cure. Our bodies don't know how to fight cancer. Cancer is deadly. So, ask yourself, is milk a health risk to our population?

People can live quite happily without milk. Even William Sears, MD, who promotes milk, admitted in 2006 that 'most of the nutrients in milk can be gotten easily from other sources, such as vegetables, legumes, and seafood.' Milk can cause Iron Deficiency Anemia, cancer, and heart disease. Cow's milk is a health risk to humans. There are other, healthier alternatives to drinking milk. To get my Calcium, I drink Calcium fortified orange juice. It doesn't have nearly as much fat or cholesterol as milk. There are also a lot of vitamin supplements out on the market today that can help you get the nutrients you need to live a healthy, human life. Humans are the only mammalian species (besides the domesticated cat) that drinks milk past the weaning period of their life. There appears to be some reasoning to that. Does that mean that other mammals are smarter than us?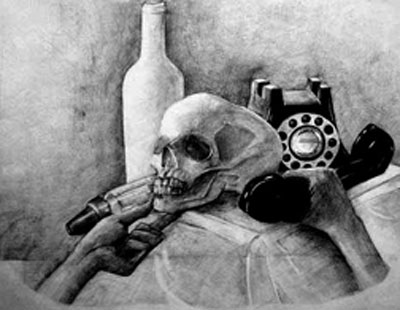 © Xiao H., Naperville, IL