Battling the Monster
January 19, 2011
In life, we all battle our own monsters. These monsters are not like the ones you read about in stories, or the ones we run from in our dreams. These monsters, are MUCH worse.

The kind of monster I'm talking about, does not hide in closets or under the bed - but in our hearts & minds. It feeds on our misery, desires, wishes, grief - you name it.

Right now, I am battling my own Monster...Depression.

My mom told me that when I was small, I was always happy. Even when I fell over or hurt myself, I'd cry, and five minutes later I was beaming again. That's pretty hard to believe considering how I feel now. I have always loved life, have always been Optimistic. I'm not sure when things started to change. The Monster of Depression is a sneaky one. One minute you're on cloud nine, the next you're free falling to the ground.

I'm not sure what the worst part of clinical depression is. It effects everyone differently.
In my case, I'll tell you what it's not.

It's not the aching feeling in my chest. It's not constant gnawing feeling of hopelessness. It's not the desperate urge to cry ALL the time. It's not the lack of energy.

It's the fact that I have so many shoulders to lean on, and I STILL feel totally, and completely...alone.

It makes me feel stupid and greedy. I constantly think " What're you crying about? There's people who are much worse off than you. You have so much, and you're still not happy. Why? WHY?!?!"

I'm not one to spit my problems at every single person who lends an ear. I'm not always comfortable with telling people my deep, dark feelings. I'm afraid they'll think I'm being just as selfish as I think I am or worse - take pity on me. However, I guess there's a part of me who wants someone to talk to. Wants someone to understand this horrible feeling that makes living a chore. Sometimes it's all I can do to hold it together, and resist bursting into tears for absolutely no reason other than I feel like crap.

Sometimes my friends will say things like " Oh, you look happy today!". For some reason, this always gets me mad. It makes you want to say "Actually, no. Not at all. Not now, and maybe not ever."

Just because a person's eyes don't tear, doesn't mean their heart isn't crying. And just because they come off strong, doesn't mean there's nothing wrong. But you can't blame your friends and family for not knowing. They want you to be happy, but when you're fighting depression, sometimes not even the people you're closest to can make things better.

In truth, the only person who can make your life better is you. As of this month, I finally got up the courage to tell my mom that I'm depressed and that I want to see the doctor. I was terrified. It was one of the hardest things I've ever done in my 16 years of life. I was so sure she'd get mad and tell me to grow up. Getting angry wasn't the worst possibility. I was even more afraid of her shunning me all together and saying something like " Whatever. Do what you want."

Instead, we've set up a doctor's appointment with the possible chance of therapy. I'm still stuck in the depths of depression, like an ocean. But now that I've told the most important person in my life, I'm on the right path to getting better. I'm swimming to shore.

I hope that everyone who is battling a monster, wins. Don't give up, just keep pushing along. It DOES get better, which I know all too well, can be impossible to believe sometimes.

I am done being my own worst enemy.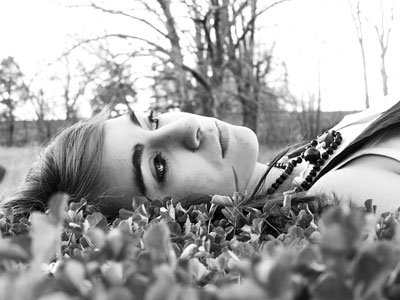 © Jasmine R., Bourbon, MI