My "Perfection"
March 19, 2010
I come from a very religious family; 2 parents, 3 sister, and 2 dogs. All of which are viewed to be "perfect" in the minds of many.
If only all of those people could see. I am far from any type of perfection. I am a 16 year old girl that looks nothing close to "normal". I don't go to the dances, I don't date, I have never even had my first kiss.
Then I look at all of my friends. Perfect bodies, boys galore, and brand new cars. Why can't I have that?
I find myself watching people. They all seem so happy. Even with simple things. I see a child, happy that his mom bought him an ice cream cone. I see a dog, just happy to be outside. I see the neighbor, content as can be in her garden. I see my best friend, gitty about her crush. Then I look in the mirror and see me, blankness and nothing but imperfection.
I want to be able to look at myself and be proud. I want to be able to smile at the simple things, and eventually at the more complex. I guess I need to look in a new mirror to see these things. I need a new look on life in general. But how can I do this in a world full of "perfection"?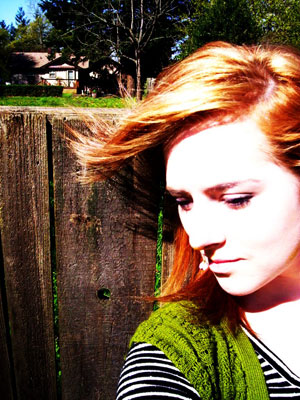 © Anna K., Portland, OR