Dangerous Addiction
MAG
What happens when the delight of morning coffee turns into an unquenchable desire? Migraines are a frequent side effect of caffeine. This drug can also become highly dangerous when ingested in large amounts. And this fatigue-relieving miracle is often present in ordinary household foods. Restrictions should be placed on caffeine because of its addictive nature and its effect on the body, including a heart condition called tachycardia.

One of the dangerous effects of caffeine is the addiction it creates. A by-product of addiction is that the body builds up a tolerance, requiring more and more to achieve the same effect. As with all drugs, the money to pay for all of those Starbucks Espresso Macchiatos has to come from somewhere. A dependency on caffeine causes problems physically and financially.

As if addiction wasn't bad enough, caffeine in coffee or cola impacts body functions. Some people use caffeine to increase physical performance, but other organs take a slide for that small gain. For example, "More and more liquid is pumped out of the body when caffeine affects the kidneys, resulting in dehydration," says one doctor. Sports performance can be negatively impacted if athletes use caffeine. And a vital function, sleep, is also affected. Caffeine can remain in the system for up to 36 hours. To maintain normal body functions, leave caffeine out of the diet.

The most compelling argument against caffeine is tachycardia, a condition where the heart speeds up to over a hundred beats a minute. Though a runaway heartbeat is rare, it can be very serious if not treated immediately. Caffeine can bring on tachycardia through a severe overdose or in people who are extremely sensitive to the drug. Frequent coffee and cola drinking may also cause this condition. The risks of caffeine should be considered before one ingests it.

Caffeine does have several helpful medical purposes, but it is not meant to be used every day. It enslaves the body, alters body functions, and can trigger heart disease. Can people find other ways to begin their day? Exercise, vitamins, and just plain old healthy living may be the answer to the hazardous addiction of caffeine.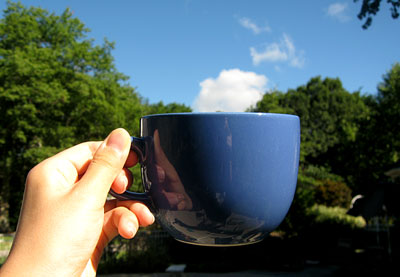 © Chae Lin S., Providence, RI