Size This
January 17, 2010
Double zero, zero, two. The pant sizes that only the natural skinny, diseased, or sick wear. What does it take to wear such sizes? If the genetics are not there, then what are you willing to put yourself through to get to such extreme? Eating disorders ruin lives everyday without notice.



Models make it look so easy to be skinny; in America's Next Top Model shows all these so called "perfect figured women". The standard tall, long legged, flat stomach that shows a little rib and collar bone, distinctive facial features, and lanky but toned arms.



How does one get like this? Smoking? Popping pills? Not eating? Vomiting after meals? People abuse their bodies like this to reach such satisfaction. Research shows that one out of five women have an eating disorder. Ten to fifteen percent of people with eating disorders are men. Eating disorders are effecting a huge rang of ages. Fifty one percent of nine and ten year old girls feel better about themselves if they're on a diet.

There are three types of eating disorders. Bulimia, anorexia, and binge.

Bulimia is when the person eats food normally or goes through excessive eating, then purges the body of the food; usually by either inducing vomiting, or by the use of laxatives.

Repeated vomiting can result in ulcers, ruptures, or strictures of the esophagus. Acid that backs up from the stomach (reflux) can also become a problem

An obsessive exercise rage is normal for one that is bulimic. This is why bulimia is most common in athletes; mainly wrestlers, dancers, horse jockeys, and runners.

Anorexia is starving yourself. People that are anorexic refuse to eat in public and get to the point that they are fifteen percent lower than normal body weight. This illness is known to put people into the hospital with anemia, kidney stones, kidney failure, or even death. Fine hair, brittle nails, dry skin, mood swings, and procrescophobia are all signs of this disorder.

Eighty-five to ninety-five percent of people who are anorexic are women. Wrestlers, runners, actors, dancers, and models are the most common with this kind of eating disorder. Having to cut weight for their job or sport is the reason behind this.

Binge is an eating disorder characterized by the uncontrolled, excessive intake of any available food and often following vomiting.

A compulsive overeater is at health risk for a heart attack, kidney disease and/or failure, ruptured stomach, arthritis, and bone deterioration.

Why do people go through all of this just to be skinny? Its not like they are oblivious to the denouement. The thing is, that everyone wants to something else; never pleased with themselves. Exercising normally and healthy eating habits are better ways to get down a couple sizes; rather than threatening your mental and physical well-being, and your life.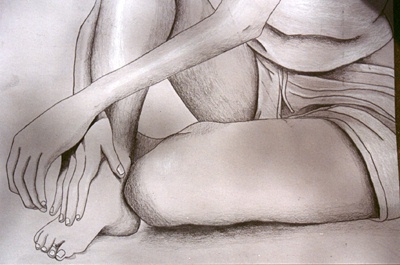 © Rebecca W., Kannapolis, MD