Uncle Leo's Legacy
MAG
November 25, 2009
It's one little word. Just six letters: four consonants and two vowels. But this word strikes fear into hearts, sends chills down spines, brings tears to eyes, and makes people ask "Why?"

What word can do all this, causing loss of life and breaking apart families and hearts? Cancer.

My great uncle Leo was a healthy 70-year-old. He was a high-spirited man who loved life. He never married. Good friends often sought his company.

Uncle Leo's greatest weakness was cigarettes. They had controlled his life since he was a teen. Though most of his generation smoked at one point, the majority quit when they learned how bad it was. But Leo's addiction to cigarettes clung to him like the smell of tobacco that permeated his being. The story of his fight with cancer is one last tribute to a great man.

Recently my great uncle's health had started to deteriorate. Uncle Leo first went to the doctor because he felt like food was getting stuck in his throat. Thinking it might be indigestion, the doctor gave him some medication that he took for five months. Then he started losing weight. When he went back, the doctor discovered a tumor in his esophagus.

I knew that Uncle Leo's health was declining. The fact that he was sick was always in the back of my mind, and I could see how much it upset my mom too. One day she asked me to help her look up esophageal cancer on the Internet.

My heart sank and a powerful wave of sadness rushed over me. Uncle Leo's face flashed in my mind, and suddenly I knew that he had cancer. My mother hugged me. I knew it could be very bad or nothing at all, but I tried to keep calm and make sure my family was staying hopeful.

Over the next few weeks, I did more research and tried to help my family. I talked more to my grandmother, who was very shaken up and dazed but was remaining faithful that it would all work out.

Questions buzzed around like bees in a flower garden. My family hoped and prayed for good news. Sadly, that's not what we received. The tumor was too far along to operate. My great uncle's cancer was terminal.

Through his life, Uncle Leo had shown great strength, heart, and courage. He shared and gave to others, and he cared about everyone around him. When he found out that he had cancer, he faced the bad news straight on and didn't bury his head in the sand. Most of our family was very shaken up, but Leo focused on finding out how to fight the disease and then tried to beat it. He stayed positive while others assumed the worst. To my great uncle, cancer was only a little word, even though it would defeat him in the end.

In memory of Leo Feeney, Sept. 24, 1936 to Dec. 2, 2007.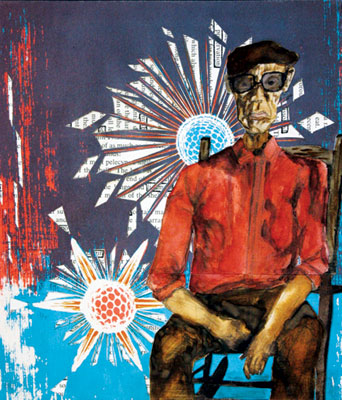 © Megan B., Harpers Ferry, WV