Being a Teen
August 7, 2009
Teen's often wonder about themselves and who they are. "It's tough to be your age." My mom always says to me. I've never really understood what she meant until recently. I'm now soon to be 15 years old but suddenly feeling as if I'm soon to be 20 instead.
In the past year, I noticed a huge difference in my own behavior towards my family and friends. I've also made several regrets that I just want to forget about. Unfortunately, people started to notice these changes and question me on my behalf. I now tend to look at my cell phone and see new text messages and without hesitation click ignore. Why am I becoming so antisocial? I think I just want to be alone..
The truth is, I have no idea who I am. There cannot be any slight chance that I'm going to be 15 years old. It seems impossible. One second I'm playing with Barbie's in my basement and then before I know it, I'm walking through the crowded halls in a high school. I find myself surrounded with people who have different interests and personalities. I then start to feel as if I'm growing up a little too quickly. "What if I miss being a child?" I start to wonder. "What can I do to be happy again?"
I've heard that being a teenager is suppossed to be fun and exciting. How am I suppossed to be having fun when I'm confused? I'm told that one day I will eventually figure out who I'm suppossed to be. The only thing I can do now is get through these hard times by taking one day at a time. Maybe I can focus on my interests. Hey, I can join the newspaper club in school since I love to write and express myself! Right. That's exactly what I'm going to do..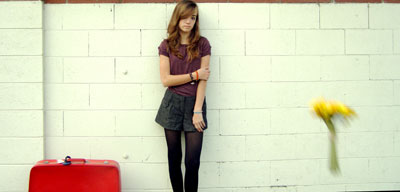 © Austin K., Studio City, CA