Animal Rights
October 25, 2017
There is an overwhelmingly large amount of animal cruelty happening in the world everyday. Animal cruelty is both the intentional and unintentional infliction of harm or suffering caused to any animal. Some forms of animal cruelty are animal testing, animal hoarding, animal neglecting, circuses, and animal abandonment. It is appalling to me how many people get away with such acts to innocent creatures. Family pets aren't the only ones being abused. All kinds of animals are being abused all around the world. Since there are not enough laws that protect animals rights, the issue has grown out of control. There are many legal occurrences happening on the news that pertain to animal cruelty and abuse. This is an indicator that awareness is growing and people are paying for their actions.

One form of animal abuse is animal testing. Animal testing is the use of animals in research and development projects for the purposes of determining the safety of substances such as food, drugs, cosmetics, science, etc. I believe that animal testing in science is ok as long as it is done in the most humane way as possible. While I believe in animal testing for science I do not believe in animal testing for cosmetic uses. The number of animals killed in U.S. cosmetic laboratories each year is 100 million. These animals consist of dogs, cats, rabbits, monkeys, rats, mice, birds, and many more. Another form of animal cruelty is in circuses. Circuses can be a fun activity for families and friends, to watch animals do tricks. But behind the scenes of circuses it is very horrifying and cruel. Circus animals are shocked and beaten until they do what their trainers want and they are kept in small cages while being poorly treated.

Just recently a man was accused of killing a dog after he got into a fight with his girlfriend. After his girlfriend left the house he started to beat and kick the dog. The dog died within two minutes of being beaten. The girl later came back to find the dog dead. The guy claimed that he had found the dog like that but she didn't believe him so she called the police and the guy was later arrested. Another man was accused of hurting and beating his 19 horses so that they would pick up their feet similar to tennessee walking horses even though those horses were unable to pick up their feet and walk that certain way with ease. The horses were seized from the man when people found out what he was doing.

People will do all kinds of crazy things without thinking about their consequences, and people do a lot of cruel things to animals that have very severe consequences and these people won't think twice about their actions. Animals are not able to speak up for themselves and they deserve a voice. So the people who strongly care about animal cruelty are the ones who need to speak up against animal cruelty and abuse.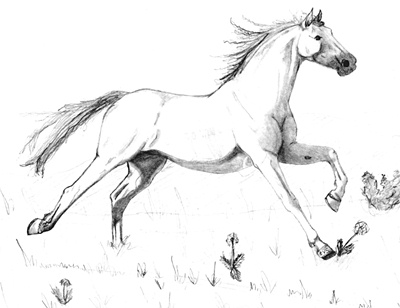 © Elissa S., Palmyra, PA