Trees
MAG
December 3, 2014
There are many different types of trees,
And they all have names:
Spruce
Pine
Birch
So on and so forth.
But isn't it more fun to
Ignore the names
And describe the trees as they are?
With broad leaves, their spindly veins
Supporting a thin, fragile sheet of life,
Or with narrow leaves curved gently inward
Like the shell of a beetle?
With thick bark, sporting definite chunks
That you can wrench off and throw like a stone
Or with thin bark that crumbles when you scratch it
With a fingernail?
Tall and broad, against which
You press your body,
Minuscule in comparison,
Looking up through the mesh of branches
Into the pearly sky?
Or small and windy, perfect for climbing
And yet too fragile
To welcome any climber?
What about the trees
With small, evanescent leaves
That speckle the sky, creating
A delicate canopy
To turn the sunlight green?
And surely you've seen those,
Locked in tightly woven forests,
That blot out the sun so completely
That you're left in near darkness
In the only cool place
On a sweltering afternoon,
Breathing in the subtle aroma
Of moist soil?
But I suppose this is inefficient.
Referring to trees by their names
Is much more practical.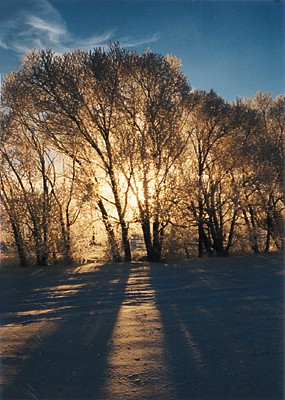 © Kyle G., Badger, MN