The Green Invasion
MAG
October 14, 2008
Green fashions, green brands, green makeup, green lifestyles. Green is the new pink in the world today. Going green has taken our ailing planet by storm, changing the everyday lives of its citizens. An immeasurable amount of the population is converting their regular routine as part of the green movement. Stores and companies are starting to produce greener, more natural merchandise. These changes are only baby steps in the process of saving our planet from ourselves. Global warming is one of the biggest dilemmas in our world at the moment, but has "going green" ­become more than just a concern? Has going green become a trend among corporations, therefore a fashion for consumers?

Not long ago, U.S. corporations were ignoring the idea of environmentally conscious products and processes. As the green phenomenon came into the picture, however, companies have done a 180 with their sales tactics. According to Sandra Jones of the Chicago Tri­bune, "Apple Inc. launched 'A Greener Apple' campaign and pledged to remove toxic chemicals from its new computer products. Home Depot Inc. unveiled an Eco-Options stamp for more than 2,500 environmentally friendly products in its stores. And Kohl's Corp. said it plans to convert most of its California stores to ­solar power." These changes, along with ­being good for our environment, are ­intended to step up sales. Consumers like to see companies make an effort to help the environment, and by buying those products they feel as if they have contributed to the cause as well.

Although everything seems to be changing its color to green, there is not likely to be another hippie era. This conversion to environmentalism is more gradual and technology-based. Many people really care, even to the extreme, but not everyone cares quite as much as they pretend to. Teenage girls may buy a shirt that says "Hug a Tree." Do they want to broadcast its message or did they just like the cute squirrel on it? A mother may go to the grocery store and instead of picking the packaged produce, opt for the ­organic greens. Does she know the health benefits or did she choose them because she saw another mom put them in her cart? Some consumers care. Others just follow the leader.

Kicking off the green movement are Hollywood's finest. Well, the ones who can afford it. Although many people are jumping on the hybrid-powered bandwagon, when celebrities step up and state firmly in front of thousands of people that they are going green, I must admit that doubt lingers in the back of my mind. Do they really care or is it for publicity? Should we care more about them going green than ­another person?

Thomas Kostigen, co-author of The Green Book, shared his opinion in an interview with TheDailyGreen.com: "If you look at the two most searched words on Yahoo last year, it was Britney Spears. You can understand how the power of celebrities can bring attention to a cause." What Kostigen says is true, but it only backs the theory that going green has become a trend. Cele­brities help put a face to the cause, which can be wonderful, but for some celebrities it's just another endorsement that makes them more popular.

The thought of Hollywood going green used to be laughable. Not anymore. Bryan Walsh, a journalist for Time magazine, jests, "Think Hollywood and sustainability may not be the first word to cross your mind. The entertainment industry has been the embodiment of American over-consumption." Walsh's summary of the Hollywood lifestyle goes from superficial to super-green. "Recycling? That was for plot lines," he scoffs. This is a new Hollywood "where solar panels and Priuses are the new must-have toys." There is something mildly hypocritical about celebrities telling regular people to sacrifice for the cause of going green. Few stars seem to be giving up their multimillion-dollar mansions or $10,000 outfits.

It's great that Hollywood's finest can convert everything in their primped lives to green with the swipe of a ­Mastercard, but what about the other 95 percent of the population? As Lisa Takeuchi Cullen points out in her Time magazine article, "It's Inconvenient Being Green," the typical American household emits 7.5 tons of carbon dioxide each year. As a mother, she knows just how hard it is to cut back on everything. "It's easier to drive to the grocery store than to plant my own garden." Cullen makes one of the best points for most Americans. It's easier not to follow the crowd in the green movement. It's easier, not better.

Making it easier for average consumers to go green are the brands that have gone green themselves. But as Sally Deneen argues in her article "Greenwashing," not all companies are true to their green pledge. "Greenwashing is environmental whitewashing," says Deneen. Watchdog organization CorpWatch defines it as "the phenomenon of socially and environmentally destructive corporations attempting to preserve and expand their markets by posing as friends of the environment and leaders in the struggle to eradicate poverty." Greenwashing is occurring more and more as the trend of going green grows, which makes it hard to tell which products are environmentally friendly. Labels on products don't tell consumers much.

Among some reported "greenwashing" companies are Aveeno, Target, and Ford. The Aveeno skin care line has based its products around the science of "active naturals." But critics say Aveeno products also contain non-natural ingredients. Target has been accused of selling toys and other products that contain polyvinyl chloride, a type of plastic that has raised health concerns. Ford announced that all corporate brand ­advertisements would have an environmental theme; meanwhile, the com­pany produced the gas-guzzling Ford Excursion. Bottom line is that some companies couldn't care less about being green. They're in it for the profits.

Another group that is starting to go green is the hospitality industry. Hotels that serve organic meals or use solar power are the hottest places to stay. "Just because a hotel is luxurious ­doesn't mean it has to compromise the environment," says Newsweek columnist Jaime Cunningham. "Some top-notch resorts are experimenting with innovative ecological programs that aim to keep the planet's – and their own – best interests at heart." Yet the organic programs at these hotels never take away from their luxury. "Going green doesn't mean giving up the gold," Cunningham says, and she's absolutely right.

Al Gore is the head-honcho who helped spur the green movement. This former vice president's best-seller, Earth in the Balance, and his Oscar-winning documentary, "An Inconvenient Truth," set off sparks across the globe. The insights in Gore's book and documentary scared people into listening to the silent plea of Planet Earth. Gore emphasizes, "We are invading ourselves and attacking the ecological system of which we are a part. As a ­result, we now face the prospect of a kind of global civil war between those who refuse to consider the consequences of civilization's relentless advance and those who refuse to be silent partners in the destruction." Reading those words, wheels started clicking into place in the minds of millions who want to ensure that Gore's predictions will never become reality.

Green – the word is everywhere. Trend or not, it still makes a difference. The girl in the "Hug a Tree" shirt has contributed to a cause that may save a tree she would never consider actually hugging. The mom cooking with organic veggies instead of pro­cessed goods made that night's dinner healthier for her family and the environment. Going green may be a trend, but that doesn't mean it's not helping. This trend will hopefully become a dedicated movement to help save our home, Planet Earth.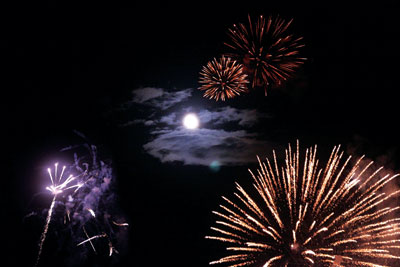 © Meena K., Groton, MA