Change
MAG
Cape Cod.
Hazy summer afternoons
swimming with thefish,
picking blueberries
for tomorrow's pancake breakfast.
Sitting onthe old wooden porch swing,
the chains rusted over,
listening to the seagulls cry
while the scent of the ocean
tickles my nose.
The goldenretriever running frantically
chasing birds and squirrels.
Walking barefootalong the comforting beach,
the pearl white sand sifting through mytoes.
Across the ocean, distant splashing
as whales play
in the warm,salty waters,
the sun reflecting off the sheet of blue
blinding myeyes.

Five years later,
everything has changed.
Plastic bags, brokenglass
dying fish.
Blueberry fields overrun
by factories and powerplants
with their stench filling the air.
There are fewer whales thanbefore.
Maybe they are there,
deep in the ocean
which now has a greenishtint to it.
This is not the Cape Cod
that Iremember.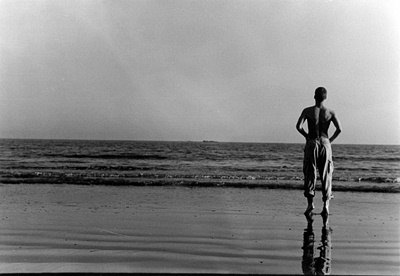 © Alexa S., Marblehead, MA