Operation Coastal Cleanup
MAG
My house is less than a mile (but over two highways and a set of railroad tracks) from the Delaware River. To the north is a refinery; a couple miles south is a Dupont paint pigment plant, a coal power plant, and beyond that, a landfill. My friends and I have a joke: If you fall into the Delaware River, you don't drown, you dissolve. So when I learned about a chance to clean up the shoreline as part of Operation Coastal Cleanup, I took it.

Fox Point State Park lies between my house and the pigment plant. While it covers several miles, the cleanup took place on the point itself. My friends and I started at the tip and worked our way inward. We found a chemical drum, knives, hair dye containers, tampons, condoms, the bed liner of a pickup truck, clothes hung on trees, an old Raggedy Ann doll, several tires, and shotgun shells. Last year my friend Alex found five syringes and a box of pipes and bongs. There were places where we walked on layers upon layers of trash, like a fossil record of waste. The most intriguing thing we found was a cement brick with Tyrone engraved on it. Figuring it might be his grave, we left it alone.

While we didn't pick up all the trash, we did make Fox Point look better, at least until the next high tide. Speaking of high tide, I walked out to the edge of the point before I left to watch a huge tanker go by. I watched it for so long, though, that when I turned around, I made an unpleasant discovery: the tide had come in around me.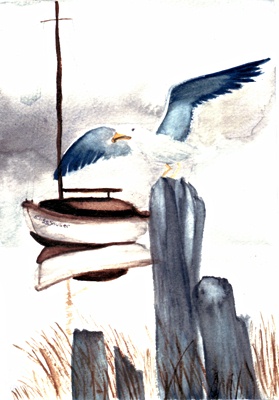 © Elise S., Milford, CT