Lunch on Capitol Hill
MAG
Growling stomachs reminded me and my classmates of our hunger as we descended to the underground complex of trams and hallways beneath Capitol Hill.

A school-sponsored field trip had brought us to Washington, D.C. Next to me, a congressman's gold pin glinted against his black jacket as if to boast, This is what you will earn if you work hard. The elevator opened and hundreds of wingtips clopped onto the tile floor. The representative disappeared amid a rush of politicians as he strode to an important meeting, or maybe to lunch.

With the help of an intern (who explained that she worked as a cocktail waitress to support her fascinating but unpaid job), we traversed the network of massive white hallways until we located the source of the chattering voices: the Congressional Cafeteria. My enthusiasm wilted when I saw the first item on the menu - "Freedom Fries" - and fell farther when I saw the wasteful containers of food toted by hundreds of frenzied Washingtonians. The plastic and Styrofoam cartons paired with plastic cups and utensils made the cafeteria resemble a fast-food restaurant serving "to go" fare.

I struggled to find an item that sacrificed only a paper plate and watched in dismay as salad, pizza and chow mein passed by in plastic boxes whose short lives would end alongside hundreds of their kind in the trash. I wished to salvage the boxes, but my search for a recycling bin proved fruitless.

Returning to Oregon a week later, I appeased my aching conscience by glancing into garbage cans on my way to class to rescue abandoned cans and bottles, a habit I've developed in the past few years. I spotted a crumpled soda can shining conspicuously above half-eaten sandwiches and crumpled juice boxes. I reached for it and sighed when I discovered that ketchup coated the bottom. At least it wasn't gum.

A month later while reflecting on my experience at the Congressional Cafeteria, I recalled our congressman, Earl Blumenauer, encouraging us to write him with our concerns. I penned a letter to explain that it upset me to see environmental irresponsibility on Capitol Hill, and suggested that our legislature set an admirable precedent.

I felt naive to expect a reply, but a few weeks later I received an envelope from the House of Representatives headed "Official Business." In his response, the congressman thanked me for my concern and explained efforts to address the issue of waste on Capitol Hill, such as finding an environmentally friendly vendor.

I don't know if Earl Blumenauer personally read my letter, but the response indicates that my input may have helped raise awareness and concern for the problem. Because I can help the problem, I will continue to try to improve the environment, even if I must retrieve cans covered in ketchup.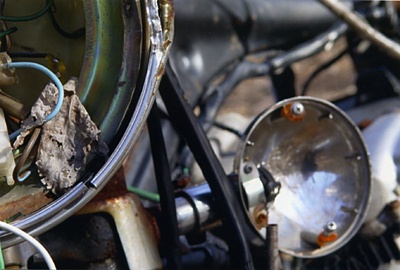 © Sara M., Milford, CT