Foggy Revelations
MAG
This morning when I looked out my window, the first thing I noticed was the fog. Since it was just six o'clock, only the lights from the school parking lot across the street showed this. But as the sun began to rise, it was clear we were wrapped in a shroud of white, a familiar blanket on our small island city.

By the time I was on the bus, the sun was up and the fog disappearing. Everything was wet as I gazed out the smudgy bus window, amazed by the small beauties nature can offer. Rays of bright morning gold cut paths through the silver fog between the trees, lending an ethereal feel to the dormant January forest. Evergreens sparkled wildly, the sun striking at the right angle to fill them with diamonds of dew. Every tree grew fruits of water, tiny treasures of liquid crystal ready to drop. The fields and farms we passed were still covered with a thin layer of the ghostly wisps, tendrils crawling out and disappearing in the strengthening sun.

As I write in my customary red pen, it reminds me of the cardinal I met this morning. Red as could be, he contrasted starkly with the bare branches of the forsythia bush where he sat. I watched him until my little sister scared him off, wondering if this living ruby were an omen for the day.

Maybe, maybe not. Red can be many things: danger, love, anger, passion ... so many conflicting and connected emotions are represented by that color. He is so different from the white, misty world around me, out of place and out of time.

Turning back to the window, I see the fog is almost gone. Half an hour before I had seen only a curtain of white. It is clear to me now that the most beautiful things in life are short-lived, and if you don't look for them, you may miss them.

The next day it is foggy again, but this time the sun has risen behind a thick layer of white clouds, and so the veil remains strong. Today seems more somber, proof that all things have both a dark and a light side. I can only see a few feet looking out of the bus, making me see just how clouded and uncertain our futures are. We cannot see more than so far ahead, and the rest remains hidden in mysterious whiteness.

And I do not miss the fact that fog is white rather than black. White light holds all the colors of the rainbow, just as our futures hold all possibilities.

We pass some ponds, all smooth as glass, mirroring whatever surrounds them. It seems like if I touched them, I would go spiraling through into a parallel world of wonders where it is always foggy. Everything looks different in thick fog, where the sun does not penetrate. Ordinary places gain the mysterious feel of a place forgotten by the world. Honestly, it makes me feel quite lost.

While I waited outside, I could feel the tiny drops of cloud on my skin, like a cooling layer of airy silk. The air is charged, full of brooding and heavy with magic, the kind that can only be summoned on days like this. It is a beautiful thing.

But the dangers of driving through heavy fog do not escape me. Just as we must be careful as we hurtle down these straight country roads, we must also be careful in our real-life decisions.

We have passed the Chesapeake Bay Bridge now, its towering and familiar structure invisible. It is as if our contact with the rest of the country (the Western Shore, as we call it on Kent Island) has been cut off, leaving us once again a sleepy little island town.

The fields come into sight again, taking on a different feel than in the dew-sparkling sunlight of the previous morning. Today all is quiet. Deserted. I did not see the cardinal, though I expect to one day. Each day is different, another step through the white veil of fog. Who knows where we will end up?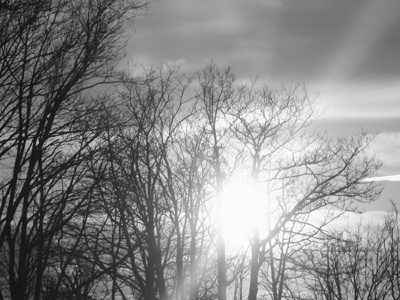 © Emma C., Gardner, MA