Brookies
MAG
I grew up splashing and catching insects in a stream where the threatened native Ohio brook trout live. I have spent more time than most in the watershed walking the streams, but now the brookies that used to be in nearly every Ohio stream are disappearing due to urban sprawl and pollution. My knowledge, gained just from playing, has turned out to be one of my greatest assets. Once people find out about the brookies' status, and realize that I understand the environment in which they live, they almost always want to get involved with my organization, Save Our Stream. I realized that people need others to get motivated to change, and that I can be that person. Since beginning SOS, I have become skilled at persuading and informing political leaders, who have brought more recognition to the brookies and helped reduce non-point source pollution. Along the way, I have met many challenging situations, and am still working to achieve one of my long-term goals: to open a public hatchery at a park where students can learn in a hands-on setting. Pursuing this goal has alerted me to the challenges of getting diverse groups of people to work together to achieve common ends.

At school, I have planned service-learning days for students to create riparian buffers along trout streams, and have taken honors courses in biology and chemistry. I am currently writing a book on brook trout and the Chagrin River watershed with a grant from the Ohio Division of Wildlife. The book will be used by fourth-grade students in Ohio as part of their science curriculum. In the future, I am hoping to start a research project to look for indicators of health in brook trout eggs, and possible symbiotic or favorable relationships that may exist between eggs and other organisms in streams.

Another goal, in addition to education and the preservation of the physical habitat, is to inspire others to follow their dreams. Recently after my talk at an elementary school in Bellevue, Washington, a group of students began an endangered species club to learn more about species in their area and work to preserve them. That's exactly the kind of enthusiastic response I strive for every time I give a presentation. I want people to realize that, whatever their passion and interest, they can create something to express it.

Through my experience as a founder of Save Our Stream, I have become a trusted member of the environmental community. Local and even state organizations know about SOS, and I regularly receive calls from other community activists. The first time, I was shocked that adults were actually calling me for guidance. After receiving the Gold Medal at the annual Christopher Columbus Awards, newspapers and television and radio stations began to spread the word about SOS. Our organization was selected as a finalist for the Northern Ohio Awards of Achievement (for contributions to the greater Cleveland community) and the 2004 President's Environmental Youth Award, which brought more publicity and the opportunity to speak with community leaders about how to reach the public. Last year, I received the International Youth Eco-Hero Award and the Prudential Spirit of Community Award. This gave me a fresh opportunity to spread the word about brook trout and attend a conference in California.

My work, however, has not been easy because of the simple fact that I am a teenage girl. Many adults do not take my age seriously, let alone my gender. With stereotypes working against me, I work doubly hard to maintain an efficient, well-supported and constructive operation. I am not easily discouraged and have found that through hard work and persistence, I have been able not only to persuade people that I am a responsible, intelligent and knowledgeable person, but to receive immeasurable aid from organizations and community leaders.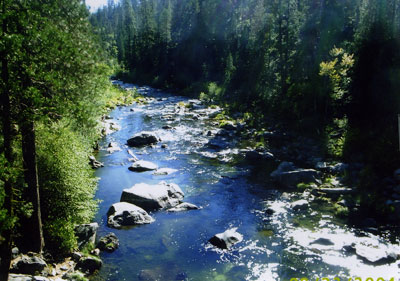 © Laycie C., Stockton, CA