Cycling
MAG
Through the years of demanding classes, grueling homework, eye-rubbing nights, and chaotic eating patterns, one thing has kept me sane: bicycling to school every morning. Rather than pump gas and drive in jammed traffic, I pump my legs and roll down the bike lane. I have freedom to meander if I like (granted there are no pedestrians or snails), control of when I get to school (regardless of the traffic), and the wonderful feeling of wind across my warm cheeks - and the knowledge that I'm doing something good for the environment and my body (maybe shedding a few pounds too).

I pass rabbits and smiling children, and encounter kind drivers. I see the beauty of nature - trees swaying in the breeze, flowers, puffy clouds, a snail inching its way across the cement. I smell the freshly mowed lawns - and the nauseating car fumes. Suddenly, reality hits me. I'm in the 21st century and not many people use bicycles as a mode of transportation. And few pay heed to snails. I wish they did.

My wishing won't change anything, but hopefully this article will. It isn't about what's "in" (which sure isn't biking or walking to school), but what's good for the future. It takes individuals to make a difference. If we want our children to live in an environmentally safe nation, we need to act now. Make a lifestyle change. Next time you hear about smog, global warming, and ozone depletion, you will know that you can be involved in the efforts to prevent it.

Let me leave you with this thought: Never think that one person can't make a difference, because we can. Why not give cycling a chance?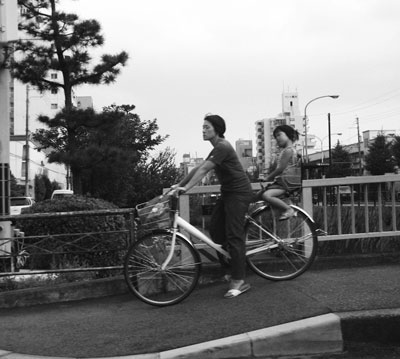 © Elizabeth C., Andover, MA