Learning Nature's Dogma
July 9, 2011
Sometimes the island seems quiet, but when I watch and listen, its secrets unfold, and I realize the island is alive. When I walk on the forest path, I smell the sweet pine sap and hear the warble of birds nestled high in the tree branches. Squirrels bounce among the limbs that are draped with wispy sea-green moss and mushrooms feast off decaying logs. My feet gingerly step over the mushrooms and continue out of the forest, into the meadow. At times, I glimpse a moose basking in the sunlight or nibbling on plants. Some of the plants have big heart-shaped leaves and others have delicate purple flowers, around which the bees swarm. Sometimes, if I venture into the more boggy parts of the meadow, there are even raspberries, but soon the meadow disappears and the path ends at the rocky shore of the lake. In the lake, the waterfowl congregate. A pair of ducks hides in the reeds, and a family of loons swims by with the baby loon riding on its mother's back. The swell of the lake makes the loons bob up and down as the water laps at the shore, and with it the water carries many things. Often moose bones wash onto the beach. I have never seen the wolves that have torn the flesh from the bones, but I hear them howling at night.

The wolves are signs of death but also of life. They depend on the moose like the moose depends on the plants, the moss depends on the trees and the flowers depend on the bees. In this closely-knit community there is nothing that is independent. If one link is removed, the whole community disintegrates. The community depends on the unique functions of each contributor. The trees provide shelter for the birds, the plants provide food for the moose and the reeds provide safety for the ducks. Even within each species, nature depends on diversity. Without variation within each species, there is no room for growth and development.

As humans, we must strive to adhere to the philosophy that nature puts forth. Too often we ridicule and oppress those who deviate from the norm or those who are merely different from us. Like the mushrooms thriving off decaying wood, we must learn to grow from our old mistakes. It is diversity, upon which our community depends, not only for survival, but also for improvement of our society. We cannot improve the human race alone or in separated groups where each group has its own motive. We can only improve if we learn to depend on each other and work collectively toward a common goal. Improvement can only be achieved if we learn to celebrate the uniqueness of each individual. If we cannot do this, only bones will be left lying on the beach.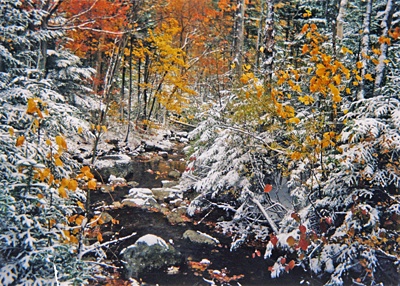 © Eric E., Lexington, MA