The Petition
July 2, 2011
The cerulean sky cheers with the few fluffy, white contortions that meander through Zeus' highway. Adding warmth, the sun trickles through the sieve of space. Adding movement, the wind whistles through the billowing, ardently prancing grass. The bordering evergreen branches on my right, reach its fingers toward the obtruding, creaky, porch resting on a precarious ledge. In front of me, the stout trees emit fire bursts of color demanding to be heard. A colossal rock sits amongst the circular clearing of trees. It seems to command their right to existence. Nature assures me that for now, it can achieve the mien of blithe calm and diffuse this to the creatures around it, namely us.

As I take a breath of cool, crisp, autumn air, a few mischievous, moseying animals oblige my need for entertainment. A nimble squirrel interrupts the tranquility, rustling through the fortress of trees protecting his sustenance for Old Man Winter. He executes a dizzying array of leaps, turns, and flips that rival a world class gymnast. He ignores the flurry of red, orange, and gold leaves that cascade toward the carpet of snapping leaves.
A regal cardinal makes her entrance, throwing a contemptuous glare at the impish squirrel that warns, "Stay away from my nest, you underling!" She sniffs, spreads her wings and parts with a feather, left behind as a gift for an explorer, who will be delighted with the brilliant souvenir. Suddenly, she is lost in a minute patch of red, which one youthful tree proudly wears and sadly, steadily loses as the wind cavorts through dancing the rumba, searching for a party to attend.

As the stoic, gray boulder sits, a deer interrupts both my musings and his. Somber, still, and partly camouflaged in a dozen or so browning leaves, the boulder scrutinizes the deer s it ambles by and pokes her delicate, tan, nose into the border between the moist dirt and staid rock. A patch of clover has attracted the dignified deer's luminous light brown eyes. Like, Bambi, it calmly chews and tastes the sweetness of clover. Then, after surveying her sedate surroundings, she trots out of sight, rendering the scene unruffled again.

The sun's rays begin to dwindle as the stealthy thief of night closes in. We close our eyes, rotate them within, focus on the purposes of humanity. Eyes cannot see in two opposite directions. We become blind to the outer needs and beauty of the world we inhabit. As stout trees crash into the moist soil the squirrels, cardinals, and deer, which represent the diversity of all species, playful, stately, and serene, disappear till all that is left is the rocks. Without the other players though, the rock has become empty, a prop without its actor can yield little enjoyment. Eventually, the entire stage is cleared, not only of its moving components, but also its staid elements. A work infamously recorded, yet eternally absent from the surviving world.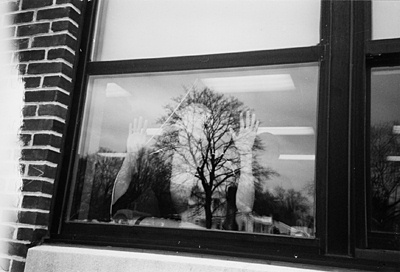 © Kaleigh W., Pompton Plains, NJ