Duck,Duck, GOOSE!
February 9, 2018
Little kids scare me. The whole idea of four and five year olds might seem adorable to some, but to me that screams trouble with a big red sign of HALT! Little did I know how much of a stress reliever it is to talk to someone you barely even know, especially a six year-old who considers a pink tutu, vibrant colorful leggings, and a sparkling shirt with a matching tiara, an everyday outfit. When I signed up for "Parents Night Out" a 3- hour event at a neighborhood YMCA in Phoenix, in which various parents drop off their kids to a series of activities while they,the parents have a night out. As part of having a "leadership" role in my community service team of Teen Leadership, I figured I would have to hum along to children songs and read a book or two;not have to chase them around and make sure they sit still, while making them keep a bubble in their mouth to ensure their quietness. That evening I went in, in my very simple outfit of t-shirt and jeans as I figured it'd be a casual meeting with kids. As I walked into where the kids were meeting cool breezes began to hit my face, but in reality they weren't cold, I was just starting to get really hot as my forehead and hands leaked with sweat.

"And this here walking in is Lezly," a team member said.I waved slightly with a friendly smile so the kids wouldn't give me a hard time. But as I glanced around the room I saw multiple shades of yellows and greens, reds, with a long variations of browns. I started sweating even harder because arts and crafts were definitely not my forte. Especially not when kids expect you to whip up the best looking turkey ever.

I looked over at our instructor and she handed each of us a series of instructions and walked out, not even a "Good Luck" or "Go Get 'Em" she simply walked out and expected us to nail it.

To my luck, I had to deal with a variety of personalities, one four-year old girl who did not dare to lift up her head and talk to any of us the entire time(who I was determined to open up to and make herself open up to make friends) another girl who talked to everyone and got nothing done, with a splash of a five-year old who whined and complained about everything we did, but did it anyways. Once I got them settled I decided to brush off the awkwardness and become a friendly young adult for once. "So what are your guy's names?" I asked curiously. "Samantha," one murmured. "Rebekah, Britanny" they said consecutively one after the other like a steady plop of rock skipping. "How old are you Samantha," I asked her expecting some sort of comfort in her voice, but she only raised four fingers. The other two without being asked, made an abrupt answer and yelled, "Five!" I figured it'd be an eternity with kids who are less than half my age and go on about explaining the idea behind the project. With conspicuous boredom they began to ask me questions of things like my age, hobbies,and why I was there in the first place. In all honesty I was taken aback by their sense of curiosity and without a sense of realization I was talking to 5-year olds, I asked if they had boyfriends. They looked at me with a glare as if I had shot and killed a person in front of them with big pupils, that I figured sooner or later would fall out of their eye sockets. Britanny and Rebekah both eschewed from using the b-word because boys were the last thought on their rainbow, and glitter sparkling minds, especially because they had cooties.

"I want pink glitter now!"

We all overheard a little girl in another group, my friend Barbara looked concerned and advised us to move on forward to the next activity as it seemed to have been too heated for the little girl to make a hand turkey without a bit of sparkle, we figured we'd play duck,duck goose in a multi-purpose room. Samantha having no sense of improvement to unshelterment drove me to start off the game in a bolted manner. I walked around once or twice, and saw the development of disappointed faces once I passed through without touching one of their heads. I reached behind Samantha and hesitated before touching her head, and then jogged off with a sudden "GOOSE!" I slightly looked back and a little Samantha grinned while pushing her round, thick glasses up the bridge of her nose, I purposely slowed down, and before I got to her spot she lightly tapped my leg. I groaned in absolute defeated and she giggled a little which then drew a smile ear to ear on my face. The game proceeded with laughs and giggles to then come to an end with a satisfying slice of pizza.

I headed out, as I had yet to complete a series of homework assignments, but I felt a small pair of arms thwart my exit, I quickly pivoted to see the now smiling Samantha below me. "Thank you!" was all she bared to say, but her smile spoke more than enough for the happiness that filled the air around her, and I gave her a tight little hug, as I figured everything she had to say through an intense gaze of eyes. I had been drawn to Samantha as a reminiscence to my shy self to develop a brighter outer shell, which was now possible through a child who I barely even knew, but now we see each other from afar, we rarely talk, only because now she has plenty more friends, not because she's shy to!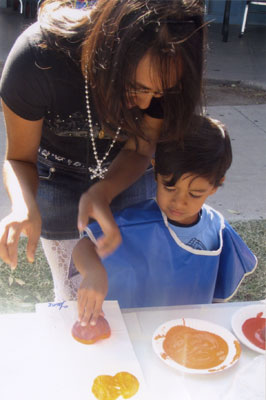 © Melinda M., Phoenix, AZ