Falling Into Place
February 9, 2018
To the extent of my knowledge, walking should be easy when a person is 16 years old and has been practicing for more than a decade. Despite this knowledge, I never seemed to fully grasp the concept, as my clumsiness has influenced my every waking moment.

So, like most of my story's beginnings, this one began with a fall.

I figured with my earbuds in, my greatest worry would be cars and people whom I couldn't hear. As a result I was looking up and around. I should have been looking down when my right foot slipped on the dusty gravel and suddenly I was among the the grit of the nearby planter, the harsh concrete of the sidewalk, and the devastating sense of my own embarrassment.

"Are you okay," questioned a concerned young woman, who had seen the entire incident, "did you hurt yourself?"
"Yeah, I'm okay"
"Are you sure?"
I laughed her off, and ignored the stinging of my various scraps and the approaching soreness of my limbs. Picking myself up, I dusted off what I could, and the two of us continued to the elementary school we were volunteering at.

The school was maybe 5 minutes from my own, and filled with many of the siblings of my own classmates. Anxiety twisted around my insides as a unwelcome vermin might infest a formerly productive and valuable warehouse.

"Okay everyone you need to sign in and then meet in the cafeteria"

My empty hand was fisted next to my loose jacket as I signed into the school, my own school's volunteer form, and dutifully placed the visitor sticker on my front as the other volunteers and I shambled towards the cafeteria where we would be placed with groups of students and a teacher. The unpleasant apprehension I felt eased slightly when my friends came into view, at least I wasn't alone in battle against potentially malicious elementary students.
I had not heard positive commentary about the institution, its faculty, or its students. Rumors of violence, inappropriate behavior, and disobedience circled around this environment, especially the middle school students who also attended in a partitioned section of the school. I recognized that the rumors were exaggerated and likely untrue, but I was familiar with the behavior of my own younger siblings.

I was assigned to the "architecture" department with my friend Karen. We counted the heads of the students with us and carefully monitored them as we journeyed to the music room where the sessions would be held. The architecture room was filled with little squares, rectangles, and triangles, that the students could snap together to create 3-Dimensional structures.

I was impressed by the students. Despite many of their rambunctious dispositions, the students I worked with were strikingly creative in their designs, extraordinarily focused on their structures, and displayed remarkable sweetness throughout the entire session.

The two remaining groups were much the same: full of children with more potential than adults probably gave them credit for. I witnessed the construction of spaceships, farms, and skyscrapers. Smiles erupted when each project was completed, or when receiving the much desired help of the high school giants Karen and I appeared to be.

Each student was unique and powerful in their own way, but I could not help but wonder whether or not these strengths were fostered properly by the school. After all, each teacher was assigned perhaps 20 students or more.

These quiet, introverted girls and boys, could easily be lost in the shadows of their more boisterous peers, just as daisies and wildflowers might be neglected in favor of roses and lilies.

My grandmother told me: "It is the fault of our own eyes when we cannot see beauty in every living thing"
At the time, I thought she was constraining this message to the Tasmanian devils we had seen at the zoo that day, the animals I described as frightening, and ugly.. In reality, she was commenting of the predisposition all humans had to see only one type of person, only one type of animal, only one type of plant as beautiful and important.

These children were important. And I felt excruciating shame towards my prior doubts and anxiety.

"You're a great high schooler" a 3rd grade girl exclaimed.
"Will you come back," inquired another pair of little girls whom I had helped to build a forest cabin with, "you're fun to play with."

My heart swelled, and I nodded.

I thought that they were fun to play with too.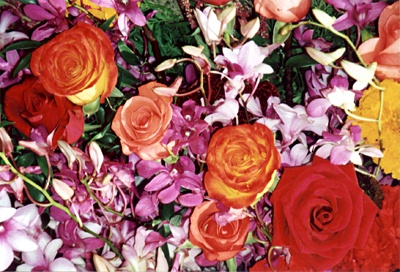 © Stacy L.,New City, NY