A Change of Pace
February 9, 2018
"You're short, do you not drink milk?"
When I first meet someone, icebreakers involving height are not typically used, but for five-year-old Maddie, orthodox introductions go straight out of the window. Had I not seen her doe-eyed expression, I would have assumed that she was taking an attempt to belittle me.

In pursuit of earning extra credit for my English class, I signed up to for Read To Me, a program that gives volunteers the opportunity to read books to children in order to provide some normalcy in their otherwise hectic lives. Once I signed up, I instantly began to bemoan the pile of homework that would await me after my time at the center. I simply wanted to grab some community service hours in order to improve my grade, my reputation with prospective colleges, and my mentality of myself.

At the center in Downtown Phoenix, I was quickly put to work by the others volunteers that had arrived earlier than my group. I zoomed throughout the room and placed books into categories based on their reading level. Chest heaving, I scrambled to find a spot to sit before the children came out from the cafeteria and into the room where all the books were placed. As the seemingly endless crowd of children began to dwindle, I began to question if I was even going to have anybody to read to. It was then when I met Maddie. After she came and introduced herself, she meandered around the room in search of a book that she wanted me to read to her.
"Anything with mermaids is going to be good!" she whooped as she jumped in the seat next to mine. As I got accustomed to her endearing personality and continued reading her stories and and picture books, I began to realize that I was enjoying myself way more than I had anticipated. Maddie's speech was peppered with little "yays" as she found something she liked in every book she chose. The wave of homework that was looming over me disappeared for the time being, and I became engrossed in giving Maddie a fun reading time. My demeanor had dramatically altered since the beginning of my service. In between sounding out syllables, began to internalize just how community service is not just some job to fulfill hours or even to be productive; it is an endeavor to improve the community, and the reward of enthusiastic smiles is enough reason to continue helping out. Maddie's bubbly smile was unmistakable evidence to me of how volunteering impacts someone personally. Just as Maddie had gotten me to enjoy myself , I hoped to give her that same joy by keeping her company until I had to eventually leave. On the jostling bus ride back home, I planned my next visit to the Center and began to mentally dissect my library in order to see which books I could give to the children at the center.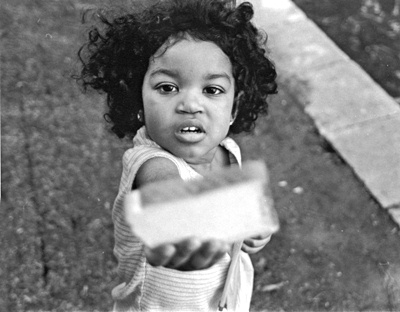 © Cynthia M., Washington, DC