Artwork for Elders: My Service Journey
September 7, 2017
You don't have to look far to find people to help. In my case, it was only 13 miles.
I remember going over to my adopted Aunt and Uncle's house to eat Armenian food. Aunt Alice always made scrumptious rice pilaf and these delicious bread pastries. I always felt full when I walked away from their home. Those were the good old days. Now, it's a bit different.

As the two progressed in age, a problem began to emerge. Both of them were having trouble walking. First my Aunt fell, then my Uncle. They had to be taken away from their beloved home and into the hospital. Around this time, their youngest brother (Aunt Alice and Uncle Robert are siblings) planned on getting surgeries. He didn't want to worry about them while he was going through his own medical problems, so he and his wife sought a solution. That's when the nursing home idea came up.

When they got out of the hospital, Aunt Alice and Uncle Robert came to the retirement home to take a look. The food served was the decent Armenian type, and it seemed an okay place to stay. Their youngest brother and her wife assured them it would only be a couple months. So they agreed.

But as the days drag into weeks and the weeks drag on into months, problems have occurred. They have not been served another Armenian dish since the open house. The nursing home took away Uncle Robert's TV because he turned it up too loud. There isn't much to do.

My Aunt and Uncle have come to despise their time in this place. Aunt Alice keeps telling me how she wants to go home. I can't blame her. Who would trade independency, privacy, and good food for boredom, depression, and pig slop? I daresay they fancy it as a prison. And they're not the only ones; I have noticed many of the residents looking absolutely disheartened and just as ready to go home. That's why I decided to take action.

I created Artwork for Elders, a program that gives student artwork to senior citizens.

This combines my passion for art with a desire to brighten people's lives. Since art lasts forever, it can serve as a permanent reminder to residents that they are cherished. When I got this idea, I knew I couldn't waste time.
I hastily made a website to spread the word. Then I contacted the activities director at the nursing home. Thankfully, she was eager to help me fulfil my dream. I went and got people at school involved. Together, we created personalized paintings and drawings for the residents. The whole process made me feel better about myself, my friends, and my community. Having fun while making a difference is one of the best things that you can do.

On my last trip to the home, I was pleasantly surprised: some of the recipients had hung the artwork outside their doors! I couldn't suppress a smile as I walked about the halls. These people appreciated the art and wanted to show the world that they have been thought of. That people care about them. That they are loved.
And that's what community service is about to me. Showing people that they are something special. That they cannot be forgotten. That they matter. I will try to continue this project with another nursing home this year, trying to make as many smiles as I can. Remember: With every bit of kindness that you spread, you are changing lives for the better. Don't wait for someone to solve problems you see for you. As Ghandi said, "Be the change that you wish to see in the world."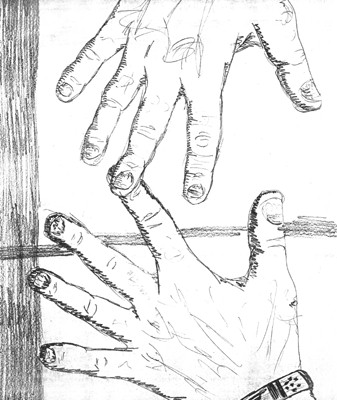 © Katie T., Hull, MA