Not Your Typical Donor
June 25, 2017
I am not your typical donor. I've never sacrificed a drop of my blood, an extremity, or an organ, as of yet. I've never had the opportunity to help unfortunate souls in Haiti or run a marathon for charity. What I have provided to my community, may raise some questions and quite a few eyebrows- my breastmilk. And no, you didn't hear that incorrectly.
Over the course of a month, I have managed to pump and freeze over one hundred and fifty ounces of milk while I continued to nourish my two month old son. Prior to his birth, I had no knowledge of breast milk banks or organizations, but new doors were opened once I read an intriguing article containing the subject matter. I was already aware of the life changing benefits breast milk provided infants, but when I discovered that it could be donated to those born prematurely, with formula intolerances, allergies, etc., I was ecstatic! I knew from the start that it was something I wanted to be apart of and the process was simple enough too! Did you know that there are only twenty three human milk banks in our country, all united under The Human Milk Banking Association of North America (HMBANA)? Well, with this information, I did some research online and learned that two of these facilities were located in my state of Pennsylvania.
After days of careful consideration, I finally contacted the Three Rivers Mothers' Milk Bank of Pittsburgh and had an over-the-phone interview with a registered nurse regarding my medical history, medications, and lifestyle. I then completed and submitted a more detailed questionnaire containing similar questions and received written permission from both my OB/GYN and my son's pediatrician to become a donor. Due to the vulnerability of the babies they serve, strict guidelines must be followed when considering a donor's eligibility; Diet, surgeries, and vaccinations can all interfere with compatibility. The final step, was getting my blood drawn to confirm that I was free of blood borne illnesses and sexually transmitted diseases, which can be transferred through human breastmilk.
With all systems a go, I worked tirelessly from 7:00 A.M. - 10:00 P.M., pumping anywhere from six to seven and a half ounces a day. Because TRMMB does provide the blood test and milk transportation free of charge, I was responsible for my own supplies, including: a pump, storage bags, and a means of cleaning and sanitizing my pump parts and pieces. I was also required to commit to pumping a minimum of one hundred and fifty ounces. Though I was not compensated for my efforts, the idea of aiding a misfortunate new mother was more than rewarding.
So you may be asking yourself, "Once the milk has been donated, where does it go from there?" After it's shipped or delivered to the bank, it is thawed, grouped with other donors' milk, bottled, pasteurized, and then refrozen. Where it is transported is based on the priority of the patient. Babies in the NICU and those discharged with complications, ultimately come first. Those that do not require breastmilk medically are at the bottom of the list (outpatients also require a prescription!). Typically, insurance companies or the hospital resided in are responsible for the cost of donor milk usage. However, TRMMB is happy to assist anyone who cannot afford the essential beverage with payment plans and a free care fund.
My gift protects many of the 11% out of 140,000 babies born prematurely in my state, according to a study performed by the Pittsburgh bank. Yesterday, I was fortunate enough to tour the facility while dropping off only one hundred and twenty ounces (being a first-time donor, my milk had to be tested individually for bacteria before it could be grouped). Some walls were coated in vibrant shades of pink and green, while flowers symbolizing a bereaved mother's contribution filled the others. I was even informed of future plans to create a tree on one wall with the names of babies whose gift had been made useful despite their passing, branching off. Not only does the bank provide nutritious milk to hospitals around the state, but they also host a breastfeeding class and bereavement group in their building as well!
As a young woman, I am grateful to be able to have a baby. As a young woman, I am grateful to be able to breastfeed. As a young woman, I am grateful to be able to share this capability with those who can not.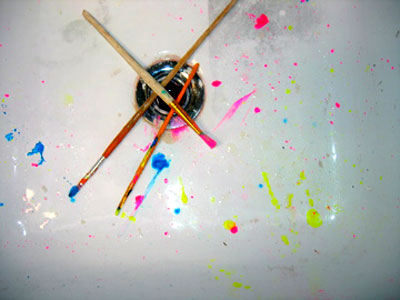 © Chelsea H., Carlsbad, CA