The Starfish Philosophy
MAG
August 23, 2016
An old legend speaks of a boy waking up as the sun rises each morning, going to a beach where thousands of starfish lay stranded on the sand to die. Day after day, he would throw as many as he could back into the shallow waters. Being only one person, he wouldn't be able to save a great number. A man once saw him and told him how foolish it was, that he couldn't possibly make a dent and was wasting his time. Without giving it a second thought, the boy picked up a starfish and threw it out to sea, then looked the man straight in the eyes and said, "I made a difference to that one."
Throughout my life, my mother has instilled in me the moral that this legend teaches. Everyday, she reminds me through her actions what it means to live by those words. Many of those very dear to me have battled cancer and have given this story new meaning. During the early stages of my life my father had Non-Hodgkins Lymphoma, then my mother was diagnosed with an early stage of Breast cancer two years ago, and my grandfather continues to fight his war with Lung Cancer. As a little girl, I would lay awake in bed wishing that I could change the whole world for the better, by making an impact on everyone who lived in it. Now older and viewing the world from a different perspective, I understand that I can't single handedly complete that task. I can't eradicate poverty, annihilate infectious diseases, or give everyone the loving family they deserve. For the cause that hit closest to home, I certainly know I can not cure cancer. However, I know that if I can make a difference on a small scale then I will be following this philosophy I've promised to live by.
That's where Pediatric Cancer Foundation comes in. PCF has given me the opportunity to give back what I am so grateful for; the health that has been restored to those around me. It started with a small bake sale in May of eighth grade, a few friends and a couple of plates of gooey homemade chocolate chip cookies. PCF holds 'Give Hope Bake Sales' throughout the year to raise money and awareness for childhood cancer, which is directly given to six New York children's hospitals. This non-profit charity uses the money to buy equipment for research and treatment, along with individualized patient care. In the few hours that we spent outside of our local shopping center, we had raised over $500. I remember counting the money with my mother later that afternoon, shocked and overcome with joy by the generosity of others. This feeling sparked something in me, a desire so strong that it couldn't be shut down. I looked up at my mother with shining eyes, "When can we do it again?"
After another successful bake sale in the fall, where we raised over $1,000, I wanted to get more kids involved. I wanted them to get the same feeling I had after that very first time, to awake them to fight for a cause that affects us all. I created a club last year as a freshman in high school, which most people expected I wouldn't be able to handle. I'm not the kind of person who takes no for an answer or backs down when things look grim. If there's something I want to accomplish, I tell myself that I'll find a way. I will find a way to raise $20,000 by the end of my senior year. It may not be a great deal of money in the scheme of things, but it can change the world for a child fighting for their life.
I began sending emails to everyone I knew, hanging posters throughout my school, and posting things on social media to get the word out for our Valentine's Day bake sale. Before I knew it, my dining room was stacked with boxes of baked goods of every kind and over twenty people had volunteered to help out. As I prepared for the busy day ahead, I felt the nerves bubbling up inside of me. My mother reminded me PCF's ideology, a dollar raised is one more dollar than we had yesterday. I began asking anyone that came by to donate and explained to them what PCF is. I taught all of my friends about it, so that we would be sharing more than just baked goods. We were sharing this idea of giving back that would hopefully inspire them in their own community. That day, a girl stopped by with her mother. She was shy and wore a hat on her head. Her mother thanked us for what we were doing and told us how important it was. The girl had recently finished a round of treatment and was in remission. I like to think of this as my starfish moment; the split second in my life that made everything I was doing worth it. That day we broke PCF's record with a total of $2,000 and I cried tears of happiness as I thought of the girl we had met earlier.
Cancer doesn't discriminate against race, color, gender, background, or age. Despite how healthy we try to live, we often can't escape it's claws as they close around us. No child should have to face death before they even know what life is. Every person who drops a dollar in our jar has a story, a reason compelling them to do so. It's because of them we were able to raise $5,323 in one year. I'm only one person on an endless beach with an infinite number of starfish. Each person who joins me in this fight helps to pick up one more, spreading what I'm trying to do a little farther. Imagine if we all lived like that boy, picture how many starfish we'd save.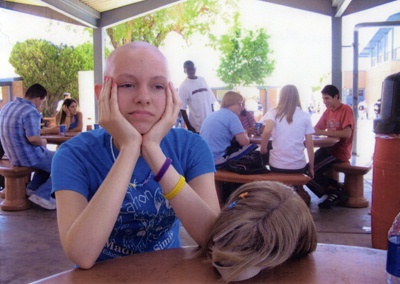 © Lauren M., Phoenix, AZ