Fallen Birds
MAG
January 15, 2009
As I walked to the mailbox with my dad, I saw something drop from a tree. I couldn't tell what it was, so I kept my eyes on the spot as we approached.

It was a baby bird, fallen from its nest. It had long, awkward wings and feet, and eyes that fought to stay open. It was sweet. I sat next to it while my dad got the mail. I looked for its nest and mother, wondering what would happen to it.

My dad said we had to leave it; there was nothing we could do. He said if the mother smelled traces of humans she wouldn't go near the baby.

As he began to walk away, a woman approached. "Did he fall out of a nest?" she asked.

"Yeah."

"Happens a lot. Not much we can do," she said, echoing my dad. "Try not to think about it when you go to sleep tonight."

I walked by the mailboxes the next day. The baby bird lay dead in the grass.

I realize that "Try not to think about it" is a philosophy many people live by. The woman wasn't being mean; she was actually quite nice. But when everyone says "there's nothing I can do – just try not to think about it," where do we end up? With an entire continent like Africa, crippled by famine and poverty and suffering. When billions of people simply try not to think about it when they go to sleep at night, we end up with millions of fallen birds lying dead and forgotten in the grass.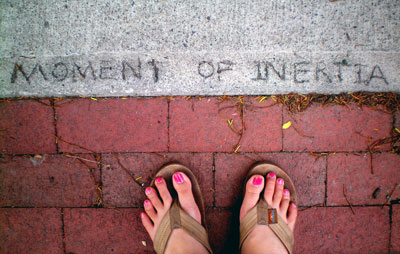 © Kate H., Fullerton, CA