How to Become Your Best Self
MAG
November 30, 2015
Although teenagers would like to say that we have already become our best selves, in reality we haven't. Mentally and physically we are still growing; our minds and bodies continue to develop as we experience new things. Becoming one's best self can't be measured by attaining a certain goal at one moment in time – beating a past record of pull-ups in gym class, teaching English to a foreigner, achieving a GPA beyond expectation. I believe you are at your best self when you engage in helping others.

Two days a week, I teach public speaking to the rising high schoolers of the Higher Achievement afterschool program. The students come from Pittsburgh's Homewood and Hill Districts, communities with alarming rates of high school dropouts, teen pregnancies, and crime.

Although I'm the instructor, many times I feel like a student. The first time I walked into the classroom, the kids were either slouched in their seats or lying face-up on the tables. The humidity was excruciating, and the room was barely lit. I started by assigning session roles: "We'll have a speaker, timekeeper, evaluator and … um … counter." After an hour of my students snickering and constantly text messaging, I knew I was the one who had to learn how to unlock their ability. During the next session I let the students participate in roundtable discussions. Their faces seemed to light up as they talked. One girl even described a firsthand experience during an argument about increased security. She had witnessed a man stealing a bag of fruit from the front of a store. I felt an overwhelming sense of awareness as she ended her story: "But it's not that big of a deal. I mean, it happens all the time."

As I continue to teach the students of Higher Achievement, I'm humbled by their willingness to succeed despite their circumstances. Coming to an afterschool program means temporarily pushing away thoughts of broken families, abuse, and dangerous neighborhoods. It means participating in classroom activities. It means learning to be your best self.

As I witness these kids voicing their opinions, I'm reminded that one way to be your best self is to help others. I am determined to use my abilities and knowledge to ensure that each of my students finds the agency to become their own best selves.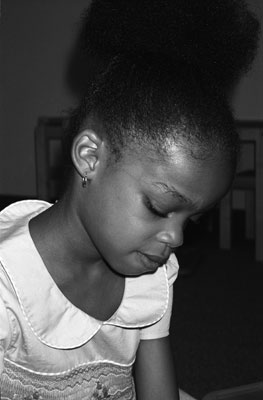 © Megan W., Ocala, FL