Romania's Orphans
MAG
March 15, 2015
"Poverty alleviation is about reconciling people's relationships, not about putting bandages over particular manifestations of underlying brokenness," write Steve Corbett and Brian Fikkert in their book When Helping Hurts. I learned that the key to building these relationships is through admitting our own brokenness and allowing ourselves to be vulnerable in togetherness.
Before I went as a missionary to Romania, I read books, studied the Communist regime, and watched documentaries, thinking, proudly, that I would face poverty head on. But no amount of studying could have readied me to face the brokenness I found in the world – and in myself.
Meeting Romanian orphans and taking them to an intimate camp setting posed some difficulty. Although most of them were between the ages of 25 and 30, they were mentally 10 or 12 due to years of abuse and neglect. Clearly we came from opposite worlds and trying to relate seemed impossible. I couldn't touch them or talk to them or love them enough; they always craved more, and I wondered why I ever thought this trip was a good idea. That first day I went to bed agitated and exhausted in my own self-righteousness, ready to lay down the law in my rowdy cabin.
The first hint of a disturbance was a loud creaking. The eerie sound of rusted springs under duress awakened my senses, the echo piercing the illusion of peaceful slumber among the orphans. As a counselor and the enforcer in my cabin, I interpreted this sound as a disturbance of the peace and got out of bed to smite the camper who dared disturb my slumber. What met my eyes, however, was a much more disturbing sight than campers breaking the rules.
Elena's fixed, glassy stare transported me into her world as the videos I had watched about Nicolai Ceausescu and his child "institutions" flitted through my head. Images of the institutionalized kids tied to cribs, hitting their heads against the wall, and the rocking – violent rocking. These were the visions that bowled heavily through my mind when I met Elena's seemingly pupil-less expression, thinking of how she was woman yet somehow still a child, trapped through years of neglect, as I watched her rock violently back and forth to sleep.
It was as if a scene from a horror movie had plopped right into my life. Trying to sleep, at this point, was futile. I sat up in bed trying to process, to gain a scope of the tragedy I was witnessing. My heart felt like it had swelled to the size of a bowling ball; I wanted to rip it out it weighed so heavily on me. The pretentious idea that I could somehow "fix" the orphans made me acutely aware of my own ignorance.
In lessening this naiveté, these wonderful young women taught me about suffering: not just a physical lacking but a deep emotional poverty. What a blessing it is to be the first person in someone's life to say "I love you." Somehow I had to impart on them the sense that they were worth loving. To my surprise, they returned the favor. Our mutual inadequacies drew us into a fast friendship that was simultaneously exhausting and fulfilling. I couldn't fix what was broken inside them; I couldn't fix what was broken inside me. But on the last day, when I cried at the thought of leaving behind my new family, Elena put her arms around me and we faced our separate worlds together.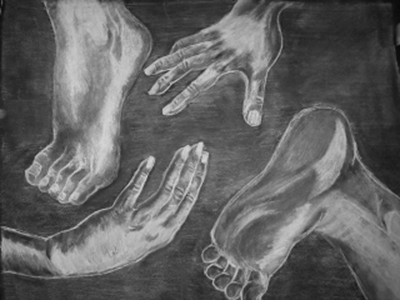 © Rachel U., Danbury, CT