Miracles at Double H Ranch
MAG
November 28, 2014
Imagine not being able to go horseback riding at camp or do arts and crafts with friends because you are too sick to leave the hospital. Double H Ranch is an escape from that reality for sick kids; any kid with a life-threatening illness like cancer or Cerebral Palsy or hemophilia can experience the joy of summer camp. This is a place where these kids don't hear "no." Even though they may be sick, every kid just wants to have fun. At Double H Ranch, there is a feeling of love that is hard to find anywhere else in the world.
Nestled away in the Adirondacks, the Double H Ranch summer camp for kids' ages six through 16, was founded by Paul Newman of the Newman's Own Foundation (think salsa or salad dressing) and Charles Wood. I went there with the goal of helping the kids feel loved, but by the end of the week the campers did more to make me feel loved. I witnessed miracles that I never thought possible, and I learned how to love. I believe this camp is the most magical place on Earth.
I was a counselor for the Muskrat cabin – boys ages six through eight. We played with water guns in the heated pool, witnessed a boy kiss a fish he had caught, watched the boys shoot targets at archery, and held up a boy to a fence when he wanted to pet a goat at the Happy Barn for Happy Children.
I truly witnessed a miracle first hand when we took the campers on a field trip to Great Escape, a Six Flags amusement park in Lake George, N.Y. When we arrived, a boy in my group with cerebral palsy looked at the huge roller coaster and said, "I'm not afraid" in the cutest voice. Even though he could not control his arms and legs and flailed his head around, he was going to ride the Comet – one of the oldest wooden coasters in the country. The ride was scary for me, but not for him. He came off it with the biggest smile on his face, declaring, "I wasn't scared."
The same boy zoomed down a zip line on a high ropes course the next day, in a special chair, and he looked like he was flying. This seven-year-old reminded me that there are such things as miracles.
The first time I realized that this world is unjust and was able to appreciate the loving atmosphere at Double H Ranch was when I was dancing with a 10-year-old boy who had cancer. I do not remember his name, but I remember he was visiting for the day and wasn't used to the friendly atmosphere of the ranch. I looked into his eyes, pure blue and full of fear of what might happen tomorrow, and heard the song "What Makes You Beautiful" by One Direction playing. I sang to him, swinging his arms in a dancing motion, "You don't know you're beautiful." It doesn't matter how you look or how you act, every person should be treated equally. I knew that this boy needed love. Because he had no hair from chemo, kids in school may have treated him differently, but here everyone is beautiful regardless.
The second lesson I learned is that those who are sick have the ability to make a joke of their disability. There was one boy who had no legs, a physical handicap he had had his whole life. He would tell people, "Don't play in the road! You don't want to end up like me." On the last day of camp, at the talent show, this same boy took the stage and said, "I've always wanted to be a stand-up comedian, but I never could stand up." Everyone in the room started laughing. No kid at the camp asked for pity, just understanding.
Coming home afterwards, I feel like a different person. I know how to love in new ways, and I have a greater appreciation for my health. These kids know how to live life to the fullest and don't judge you if you act goofy. Double H Ranch is a magical place where kids are healed through fun. I love the kids there and wish that everyone could experience its magic. I have witnessed miracles, learned invaluable lessons about love, and my life has been changed forever.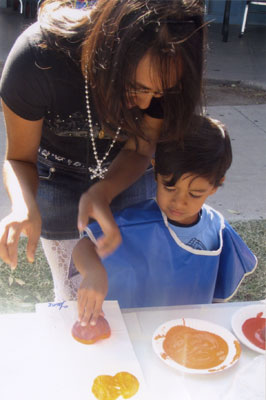 © Melinda M., Phoenix, AZ