Help for Homelessness
MAG
June 15, 2014
Beginning my high school career, I'm in the same situation as many others. I don't know where I'll be in five years, or even what I'm passionate about.
The school I attend is the highest-ranked public school in Calgary, and I am surrounded by ambitious, talented individuals who all have their future planned. I am immersed in a monotonous cycle of studying, volunteering, sports, and preserving an optimal grade point average. We send our graduating friends off to Ivy League universities. We know nothing of drugs or alcohol, hunger or suffering beyond Shakespearian tragedies and Oliver Twist.
It's in a place like this that I've realized I don't know where I belong in this world, or if I even have a spot in our society, a box among billions of boxes, marked with my name. Only now do I realize, however, how pathetic my worries are when compared to the less fortunate.
Last night during the evening news, I heard for the first time of the anti-homeless measures my city has taken. Brought to the public eye for the first time by protests, my city is one of several that have put spikes around public buildings. Designed to stop the homeless from sleeping underneath overhangs, they are immoral and insensitive. These places that we care little about and abandon at nighttime mean the difference between a restful night and one that feels like it will never end; these places can decide whether a man will live to see another day or die from exposure. These places can mean everything to someone without a home.
According to a study by the Ontario Coalition Against Poverty, a homeless man is eight times more likely to die than a man of the same age in the general population. It horrifies me to imagine how many more deaths will be caused by our inaction and outright hostility. It saddens me to wonder what could have been, what kind of talent and passion have been wasted because we've taken these preventative measures that have stopped fellow humans from rising from the streets.
But what shocked me the most was the reactions of those around me. They supported the anti-homeless spikes, commenting that they were an economical way to keep "their problems" and "dirty drunkards" away from us.
This makes me sick. What kind of person are you to so easily and remorselessly write off fellow humans as trash, as people who do not belong in our so-called civilized society?
What if John Lennon had been born to a single mother on the streets and never held a guitar? What if Ernest Hemingway had been taught to sell marijuana from a young age, and carried a handgun instead of a pen and paper?
It's true that those who live on the streets have problems that most of us have never had to deal with – or even want to get involved with. But it is equally true that they, too, have stories and dreams and just as much right to a good life as you and I.
What would be a truly economical way to fix the problem of homelessness? To take the money spent on anti-homeless measures and use it to improve their lives. Rehabilitation, affordable housing, a meal to warm their stomachs, law enforcement to help those being taken advantage of – there are so many others ways this money could be better spent.
What is the point of analyzing the works of Charles Dickens if, when we face such problems in real life, we refuse to do anything to help? What use is a fancy degree when we allow others to suffer? I believe that by helping others, I will define who I am as a human being and a member of society.
I believe that everybody has the ability to become somebody, if only we help them out a little.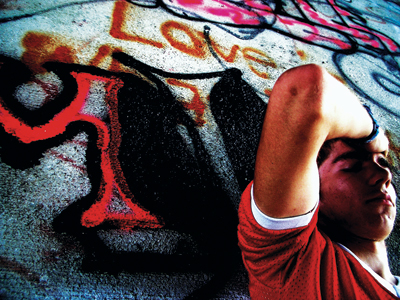 © Sindha A., Champaign, IL