Smelly Situations
February 28, 2013
"Get away from me, you ugly mutt!" That was the first voice I heard as I entered the cold, crepuscular, cement hallway to where I was to begin my volunteer work of the day. As I walked down the dim hall I could hear barks, whimpers and meows while the stench of urine filled the air. I was handed a bucket, a water hose, soap, a pooper scooper and told to begin cleaning the kennels.

Now, if there is one thing you should know about me, it's the fact that I love animals. Sometimes I like them better than people because no matter what you do, your pet will never betray you or turn its back on you; it will always remain loving and by your side. I was given two pathways: Path A (where the dogs were) and Path B (where the cats were.) Well, I'm more of a dog person so I figured why not clean out the dog kennels first. As I entered Path A, all I could hear was barking, whimpers and growls. It sounded like I had entered a zoo, not a room filled with approximately 50 dogs. I began my volunteer work which was cleaning the kennels and giving the dogs a little bit of TLC while I was at it.

After I was done with the cleaning, I noticed that one of the dogs, "Honey" seemed a bit shy. This dog was no ordinary dog. She was young, yet she had so much fear in her eyes. Stitches covered the side of her neck while bite marks chipped her ears. Honey was a stray German Shepard Mix that was tragically abused by her previous owner and was found roaming the streets of Phoenix. I began to unlock the kennel and Honey slowly backed into the corner, she was trembling with fear. As I got on my hand and knee's, I began to call her name and talk to her in hope that maybe she would gain a little trust in me. After about half an hour of sitting in the kennel, I stood up. I was just about to leave when all of a sudden Honey came closer to me. She sniffed my hand. When a dog sniffs your hand, it usually means they are examining you as a person. Just by your "smell" a dog can tell whether you are a good person or whether you're meaning to do harm. I cautiously extended my arm to pet Honey, but I was being extra vigilant not to hurt her wounds. She fondled my hand and immediately started wagging her tail, something I had never seen her do. I kept Honey some company and made her feel loved for a bit, since she'd forgotten what it felt like to have a loving owner. As I locked the kennel, Honey stood there. Her tail was wagging and I could see trust in her eyes. Honey had found a friend in me.

From this experience, I learned that it takes a lot to build up trust once it has been lost. I remember how at first, Honey backed away from me with fear. But, after some time she finally gained some trust in me and was a little friendlier. Through those actions she remembered what it felt like to be loved again. What it felt like to have someone talk to you, pet you, play with you, make you feel special and not harm you. My day of volunteer work at the Humane Society is definitely one I will never forget and I hope that Honey found a kind, loving owner who will take good care of her because she is a precious little soul.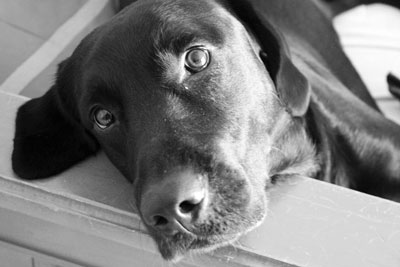 © Lindsay L., Snohomish, WA