Team in Training
May 24, 2012
"Running for a good cause", that's the motto for the Team in Training; they help raise money towards helping families victimized by cancer, specifically those suffering from Leukemia and Lymphoma. Many people suffer from these diseases every day but with the help of the leukemia and lymphoma societies and Team in Training those people can have a much easier battle.

The leukemia and lymphoma societies roots stretch back to 1949 when the de Villiers family experienced the devastation of leukemia with the death of their 16-year-old son (pictured above) (TeaminTraining.com). This sad death caused the family to begin the Robert Roegler de Villiers foundation, later the leukemia and lymphoma society, this foundation was dedicated to helping not only cancer patient but also their families. The TNT was formed in 1988 as a faction committed to raising money and running the New York City marathon, the team (only 38 members) raised over $300,000 for the L.L.S. Since this feat the team in training was born dedicated to raising money for the L.L.S and cancer patients alike, now over 40,000 members raising money for a good cause.

The L.L.S is committed to curing leukemia, lymphoma and myeloma, and helping and families (TeaminTraining.com). Most of the money raised goes to program services, approximately 76.2%, things like research or patient and community service, the other 23.8% goes into raising more money towards helping cancer patients. How do they raise this money? By running marathons and half marathons, much fundraising goes into this and for every member that finishes the team gets even more money to spend on research and family.

Anyone can help the Team, many people support the team without running ,they sponsor the runners, or there are dozens of support groups that you can sign up for (TeaminTraining.com). The team also works closely with many famous people who have cancer, one example is Lance Armstrong. Many people work with the team to help raise money just by running like Christie, "The Amount of joy I get from helping the team never waivers even in the months of work, and especially when I see the look on a families face when they receive our gift."

The money from the team goes almost exclusively to patients and their families. "It is the belief of the team that most cancer foundations donate most if not all of their money to cancer research alone, we here at the team recognize that the patients are not the only ones suffering so our goal is to make it so that the families journeys are a little bit easier as well" (Bob Humphrey). 33.4% of all the money raised goes to patient and community service and 14.8% goes to public health education while only 25% goes to research, as despite the fact that the team is based on helping families they still are committed to finding a cure.

The team in training is a group wholly dedicated to making the lives of the families of cancer patients easier, they are a trustworthy dependable group of people who understand the hardships of dealing with these diseases. Most of the people involved have dealt with leukemia or lymphoma before even Marty Liqouri (national spokesperson and chairman.) was struck with chronic lymphocytic leukemia just after he began helping the team "I was now beyond just volunteering. I realized that the work of LLS through Team In Training was helping me. I learned how important this program is rather quickly" (Liquori). Since most of the people involved have dealt with it before and know how helpful the team is they try even harder to raise money for those people in need.

When I was in the fifth grade my grandfather died of leukemia, he had been fighting it for a while but eventually it became terminal. With the help of the team in training it all became a little easier to help with and they assisted every step of the way. After that the whole family wanted to help give back in any way possible, so my mother and my uncle decided to run a half marathon for the team, "It was a lot of work but it was worth it to give back to the team that helped us when we were going through that" (Bob Humphrey). Even though I was only ten at the time I helped my mother as much as I could I trained with her, helped keep her motivated and I helped with the different fundraising activities involved for donations. This organization means a lot to me and I wanted to help spread the word.

The Team in Training is a trustworthy foundation dedicated to raising money for a good cause. They have helped countless individuals cope with leukemia and lymphoma for decades and hope to for decades more. So until a cure can be found the team will continue to run for a good cause.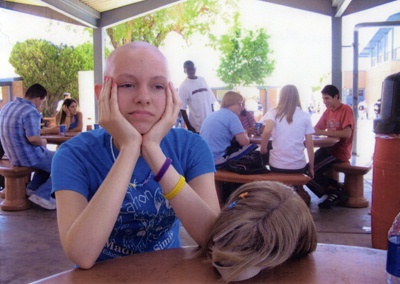 © Lauren M., Phoenix, AZ