A Remembrance of Laughter
May 23, 2012
Giving shoulder and piggy-back rides all day may not seem like much. I run around with the children as they yell, "Faster, faster!" Making them have is worth everything. These children don't have much, they are what is known as the less fortunate.

These little children come from a much different lifestyle than ours. Not having parents, or their parents are divorcing is what they are living with. These kids usually aren't growing up with a lot of family support. The homes of these children are not safe in most cases. All day long they would usually be wandering the streets.

Most of the kids have at least two full outfits, although some have more than others. Their clothing is old and sometimes it may be torn. Some of the children don't even have shoes. Something needed to be done, we can't have children living like that.

The solution is an organization called Youthworks. This organization is the sponsor who holds all of the mission trips around the country. What Youthworks is, is simply, volunteers who travel to different states or neighboring countries to help the less fortunate. I went on one of these mission trips sponsored by Youthworks. The missions trip was held on a reservation in Wyoming. This trip was one of the most memorable, life changing adventures that I will never forget!

Kids club is how I got involved with the children. We provided a shelter for them and a fun, safe environment. All of the volunteers kept all of the children occupied for the day so they weren't thinking about what was going on at home. They run around, laugh, and smile. It made me realize what some young children endure on a daily basis.

I now have a new perspective on how I think of other because of Youthworks and Kids Club. I think more of the less fortunate and what I can do to help them because of this experience that I had encountered. One day of having fun and take care of these kids helped them, and also we were keeping them safe instead of the alternative.

Making a child laugh with should rides can help them forget all of the stress that they may be having at home. The little things that don't seem like much can help others in a big way. Life isn't full of "what if's", go out and do some good, experience something new.

Go to www.youthworks.com for more information on the organization.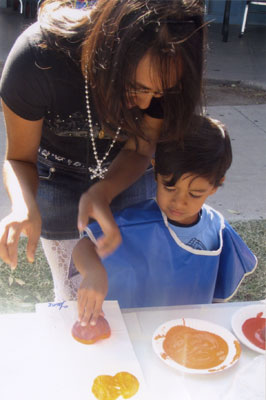 © Melinda M., Phoenix, AZ