Gardening Is Easy
February 10, 2012
Who in this world said that gardening is easy? They must have been crazy, unless to them it is easy. You may be wondering what I am talking about and to go directly to the point but I will tell you in good time.
In the early spring of my freshmen year, our service club, Interact, was going to volunteer at the Beatitudes campus. Of course I volunteered at the first moment I got. We were to clean the day care, transfer sand, garden, and take care of the bunny that was there.
Beatitudes is an elderly home that is down the street from the school. Interact volunteers there plenty of times before but this would be my first time going with them.
Me and my partner in crime, Krystal, had our hearts set on the garden the day we signed up.
So on a Saturday morning at eight o'clock we arrived at the campus. On our arrival the caretaker was waiting for us. She explained everything to us and thanked us for doing this for them. She said that the elderly liked to walk through the garden and take care of it, but thecouldn't't take care of it all by themselves. And that the extra sand lying around would get in the way of the children's play time.
She did split us up but luckily she asked us to volunteer on certain parts we wanted. Most of the guys went to shovel sand, a couple went to clean the objects that needed to be cleaned from the day care, one went to take care of the bunny that was there, and a few went with my group.
We all thought that it will only be a little crazy, but our imagination didn't even get close to how it actually was. The garden was overflowing in mint, dead debris from the plants were everywhere, the two fruit trees out of control, a fountain covered in algae, grass overgrown, mixed up plants in the beds, and spinach.
The spinach alone speaks for itself. I heard a many great thing about spinach, and this was not one of them. There was at least five or six of these purple, green spinach ranging from three to eight feet tall. We all were baffled by this plant.
While we stared at this mess, we were told that it has been a year since the previous group was here to garden. So we were shocked by how these plants grew so fast in such a short amount of time.
Krystal and I decided to pick up the dead debris while everyone else chose something else. Ironically no one chose the spinach.
By the time we had our break two hours later, we can see improvement but not much. We had a ten minute break. The people from the garden and shoveling the sand sat down with a pained filled sigh that was intermix with relief for a break. I could only sit for about five minutes before I had to move around. So I went back to the garden to clean out the fountain.
There was so much gunk in it that only after two minutes you actually can see the bottom of the bowl on the top. It was only three feet tall. I was happy to oblige to Mrs. Green request to stop for I had seen a little tiny red worm and I was not going to take the chance to get a parasite in me.
The rest of the day past slowly for Ireallyy didn't want to continue on puling out the dead debris. During this time I noticed that a few people from the other groups had finished their job and started on the spinach. I also noticed that theyreallyy didn't want to do their job either so I asked if we could switch since I was more interested in that spinach then the dead plants and the random bugs that were hiding underneath them.
Now I understand why they wanted to switch. They had managed to get the smallest one out but it had token them at least five minutes to do so. Krystal and I managed to bet the rest of the smaller ones out. We had to wheel barrel it to the dumpster. On our way there and back we ran into some of the elderly who were carious as to why these teens were on their home.
Once they learned that we were taking care of the garden, the elderly smiled and said that they will visit it once we are done for they liked to visit it anyway.
Once we got back to the garden we had to figure out how in the world we are going to get this eight foot tall monster out of the ground. Well we asked the caretaker and she asked the maintenance to give us a shovel. It did make it easier but we were in for a surprise. The spinach base was as big as a ten year old trunk of a tree and weighed close to fifteen to twenty pounds.
When we were bringing it to the garbage, it took three of us so we won't drag it, we ran into another elderly man who had a walking stick. He was so nice and polite to us when he was asking us questions that he promised us that he will visit the garden with some of his friends.
While we walked back to the bus I started to think about the elderly that I talked to. There would have been no way for the to do all that work so that they could enjoy the garden. Although I may have been sore for a few days and had many cuts, I was content that I was able to make others happy even if it is only the simple pleasure of a garden.
I know now that if someone asks me to help them garden I will willingly help them. And I will try to stay on my task for you must finish one before another or else it will cause even more chaos of a mess and disorder.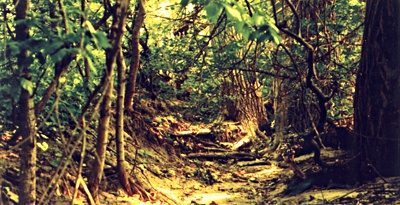 © Dan B., Papillion, NE