God Blesses Me
February 10, 2012
There was an enormous white building surrounded by destitute people. The people waiting outside seemed anxious to go inside the white building. As I began to wonder what was inside that mysterious white building I began to have flashbacks. I remembered a dark winter morning when volunteers passed out breakfast and shared the gospel to the homeless. I was about eight years old when this opportunity arose for me to go help the ones that needed it the most so I had talked to my mom about going and she had allowed me to go. So there I was at five in the morning at Jefferson street outside of that white building formed in an assembly line serving scrambled eggs. When we had finished serving we all left back to church and prayed for the people that had accepted the Lord and as we prayed I had asked God to give me the opportunity to go back to the same place to go help the indigent. The years passed and my junior year Interact, a community service club at my high school, had offered the opportunity to go to Andre House. When I signed up to go I did not really know where I was going all I knew was that we were serving food.

Finally the day arrived and we had departed to Andre House. "So this is the place I had once come to at five in the morning and was impatient to come back to" I thought to myself. I had already come to Andre House, a Phoenix shelter, once before but I didn't actually remembered what the place was called and now that I knew the name and where it was located at made me joyful. I had always wanted to come back, for the first time I came it had been a wonderful experience.The homeless were so thankful for the small portion they had obtained; I was in awe of how they did not have much but when they received food,clothing or any other object they were immensely thankful.

This time it had been different I was actually not only going to serve the food but I was also going to prepare it! How exiting was that! I had begun to cut up tomatoes for the "pico de gallo" , a salsa made with onions,tomato, and green pepper.After Cierra,Nataly and myself had done cutting up all the tomatoes, we went to help the rest cutting up the fruit or folding up napkins. Once we were all done with our first task of the night we finally got to choose our jobs since it was my first time working inside I was unfamiliar with the jobs and decided to choose something simple and chose to serve the fruit salad. I had been assigned to line two at the end of the serving line. I had considered this a mission to talk to the homeless persons since I was the one to hand them their plate.

The first person had come in and I was still not sure of what to say because I certainly did not want to offend them so I just said "Enjoy your meal Sir". As more people commenced to come in I began to say different phrases and felt comfortable to say "God bless you!" I was in awe when they replied and said "Thank you so much and God bless you"with a smile as bright as the sun's rays. For some odd reason those words got deep inside my heart it felt fantastic to be able to help the more needed.Every time I handed a plate I handed it with love and a gigantic smile that stretched from one side of the globe to the other. Even though I did not know them i hoped that my smile and simple phrases that I uttered would make someone's day.

On our way back to our school I was pondering on what had occurred this day.It made me come to a realization; I am rich compared to others, I am so blessed to just have a roof and a meal everyday.We should all be thankful for what we have and not complain for what we do not because there are others out there in the world that have less than we do and are more thankful than we are for the few objects they have.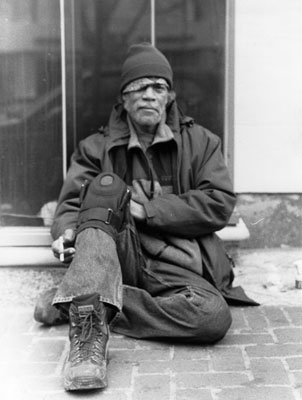 © Marie D., McLean, VA