Prom Dreams
MAG
Our Community Relations class is based on servicelearning, where we work with the community to provide for theneeds of the people and town. We learn leadership skills andprovide a better and closer community. The requirements forthe final project are to find a problem in the community, getcommunity members involved and have a plan for the project tocontinue. In the past projects have included collecting toysfor children's hospital, using flowers from funeral homes forhospital patients without families, starting a buddy programand having an HIV/AIDS community garden.

For ourproject, we wanted to do something to help people our age. Weknow not everyone can afford prom clothes. As a result, manystudents do not go to their prom. We wanted to help give themthe experience and memory of their prom.

Many girlshave old prom dresses they will never wear again and are inperfect condition. If dresses are donated, girls who thoughtthey couldn't go will be able to attend.

We contacted agroup called INTERFACE that has been promoting and collectingdonated prom dresses for the past few years. We posted flyersand made announcements in school to encourage others to helpkids their own age, possibly in their own school. We havewritten letters to other schools to encourage their studentsto donate prom dresses, too.

For our project to be asuccess, we still need to contact local BOCES and tech centersand ask their cosmetology classes to perform updo's and nailsfor free.

We hope this will become an annual event soprom dreams can come true.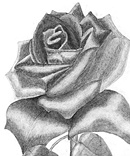 © Nghi L., Phoenix, AZ