Digging in the Dirt
MAG


The dirt stuck to my sweaty face as I picked weedsin the hot sun. Why did I choose to work on a farm this summer? I wondered, as Itried to wipe the dirt and sweat off my forehead with my arm.

Afterapplying to several jobs, I was thrilled when The Food Project invited me to workwith 60 other youth from diverse backgrounds to grow and distribute food toshelters, soup kitchens and farmers markets in and around Boston. I had no ideawhat I was getting myself into.

The first week, we were divided into fivecrews of 12. We would be working with our crew during the seven weeks of theprogram. When I met the people in my crew, I felt nervous because I had neverinteracted with such a diverse group before. There were kids from all over theBoston area; one had recently moved from Haiti, another from Saudi Arabia.

My crew was assigned to harvest collards. At first, we worked in awkwardsilence. What did we have in common to talk about? Nothing! At least that's whatI thought until one girl pointed out that I was wearing a bracelet from herfavorite store. We immediately started talking, and in less than a week, everyoneon my crew became close. Our differences made the conversations more interesting,and it was through them that I learned none of us was what society thought wewere.

Not only did my perspective on people change, but my perspective ofmy own neighborhood changed, too. I was gardening on land that had been filledwith trash. Previous crews had cleared the area and brought in soil and compost.Every day I had walked by those lots in my neighborhood, but never stopped towonder how they got that way. I was shocked to learn that the houses had beenburned down by landlords in order to collect insurance money. The abandoned lotsbecame places to dump garbage and deal drugs. I was troubled by this, butinspired by those who had changed things. It made me work harder because I wantedto restore my neighborhood's beauty.

Even though I was helping to improvemy neighborhood, I didn't understand how important my efforts were until Istarted to work at the shelters that receive The Food Project's produce. Thenumber of meals we cooked there was overwhelming, but it was rewarding when aguest said "Thanks" or just gave me a smile. After working in ashelter, the number of homeless people became more than just a statistic tome.

As the summer progressed, I learned how to farm and work withpeople. The work became easier because I was having fun with my crew and feltthat what I was doing was important. It didn't matter that when I rode the trainhome people didn't want to sit next to me because I was covered in dirt. Whatmattered was that I was making a difference.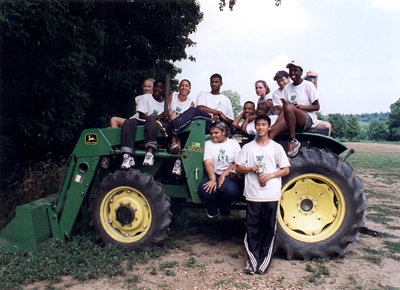 © Courtesy of Carla C., Boston, MA