A Week in Honduras
MAG
Ineveryone's life there is an experience that changes them so dramatically that itaffects the very way they live.

In the spring of 2000, I decided to take achance and go on my school's spring-break service trip to The NuestroPequeños Hermanos Orphanage in Honduras. And so, while my friends werefinding the perfect bikinis for the beach and talking about all the boys theywould meet, I spent those weeks with the six other girls and two teachers lookingfor supplies to bring the children and getting immunization shots.

As ourdeparture approached, I found myself doubting my decisions. Would the childrenhate us? How safe would I be? Would I have to eat the beans? I was not the onlyone questioning this decision; many friends told me I was "wasting my springbreak on an awful trip."

As the plane took off for Miami, I knew inmy heart I was doing the right thing. Seven hours later, after a second flightand a bus ride down a dusty, bumpy road, we arrived at the orphanage. As the busdrove through the gate, panic consumed me; I was barely able to move. Somehow Imade it to the hostel where we would be staying for the next nine days. Minuteslater two girls burst through the door and hugged two of my classmates who hadbeen there the year before. After that I began to relax and decided to make thebest of my situation and do what I initially thought I was going there to do:teach and help others.

Over the next week, I worked in La Casa de Abuelos(The Grandparents' House, which was a nursing home), The Babies' House, taughtthird grade, and even helped cook a meal for the entire orphanage. As Ipersevered through my tasks, my heart began to open and welcome the children.

Everything I had thought they would be, they were not. I was expectingstarved, bitter, selfish kids, and was ashamed that I could ever have thoughtsuch things about them. Not only were they kind and compassionate, they alsoshared all that they had. They considered each other equals, and us their newfriends. During the week, I began to learn about the hardships the children hadbeen through and the pain they still felt. That surprised me, since they neverlet their pain stop their enjoyment of life.

Too soon it was time toreturn home. As we packed our bags many of the children came to watch. It brokemy heart, knowing it might be the last time I'd see them, and I cried. I couldnot understand why God had chosen such a life for them and given me such aprivileged one. I wondered if it was fair for us to barge into their lives, gaintheir trust, and then leave.

At the time, my questions went unanswered. Ittook me a long time to realize that my intentions for the trip had been wrong. Iwas not the one who taught and helped, it was the other way around. The childrenat the orphanage taught me more about life and appreciating what you have than Ihad learned in my whole life. That one week changed my outlook oneverything.

Before we left, we bought t-shirts the orphanage was sellingfor a fund-raiser. On the backs the t-shirts said, Una esperanza para losniños y la juventud de Honduras, which translates to "A hope for thechildren and youth of Honduras." Although my t-shirt may fade, and thechildren have probably forgotten me, I will never forget the message I wear andthe lesson they taught me. They are imprinted on my heart.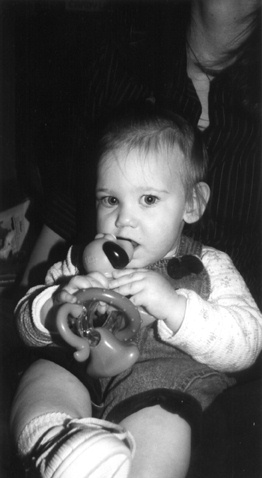 © Kat B., Hingham, MA