Serving Dinner
MAG
Themen turn when they hear the door open. Heart pounding, palms sweating, I take myfirst step down the stairs. The chatter begins again. I take a quick look aroundthe room; all the people are dirty, middle-aged and male. Oh boy, I think. Why amI here? I need to get out of this place as soon as I can.

My group of 20students and advisors makes its way into the tiny kitchen at ImmaculateConception Shelter on a Sunday night. Our task is to serve dinner to 200 peoplewaiting in the dining hall. We quickly get to work.

Before I can object,I am told to shovel the shepherd's pie onto plates and find myself standingbehind a makeshift serving table, armed with two spatulas and oven mitts. The menstand in a never-ending line, waiting for the meal to begin.

"Keepit simple. Make sure each guy gets the same amount as the guy in front of him. Wedon't want to start any trouble. If someone asks for more, tell them that is allthey get, and move on. Oh, and don't forget to smile!" I'm instructed. Ourdirector is an old hand; she knows some of the men by name. I can still feel myheart pounding; I don't know what to expect. Suddenly, from the chaos emerges aman shouting in a mix of Spanish and English. He does not need to keep it up forlong; I have never seen people quiet down and form two straight linesfaster.

"Escuche, hombres, escuche - Listen up! It's time forgrace. En español primero. Spanish first. Bow your heads." The Lord'sPrayer is said in both Spanish and English, and after each, the leader givethanks for us. All of the community look up, nod, and smile our way when thisblessing is spoken.

"Amen!" The voices fill the hall as theprayer ends. The first man in line walks up to the table. Trying to remember thedirector's advice, with spatula in hand, I set upon my task. After almostdropping the first three portions, I settle into a routine: Smile, scoop, talk.Smile, scoop, talk.

"Hi."

"Goodevening."

"Here you go.

The words are soft as whispers,but with each new face, my confidence and comfort grow. Mike, who is handing outrolls next to me, laughs and jokes with the guys, helping put me at ease. Just asI think that the night will end without any complications, a fight starts tobreak out.

"Get in line! No pushing! Wait your turn!" our youthministry director Elizabeth says, surprising even herself. The rowdies look ather, stunned, but obey without question.

After dinner, as my group worksquickly to clean the kitchen, I learn that everyone was just as nervous as I was.Even Elizabeth, who yelled at men twice her size, admitted that her stomach wasin her throat. Soon enough, it is seven o'clock and time to leave.

Thewalk back up the stairs is quite different from the first one. One man gets upfrom his seat on the stairs. As he holds the door open, he gives me a toothysmile and asks, "When are you coming again?"

"As soon as Ican," I answer.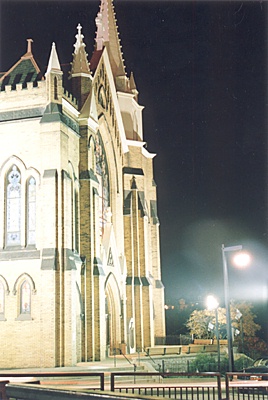 © Lauren W.,New City, NY