Miracle on 26th Street
MAG
Through the window I could see a man with a long, knotted gray beard sitting alone at a table. A hunting hat perched on top of his head and he wore an old Denver Broncos jersey with holes. I reached for the doorknob and as I entered, heard, "Hey, Wendy! Hey, Annie!" My mother and I looked up. The man waved. "Merry Christmas," he continued, with a crooked-tooth grin. I smiled, but felt a bit shocked. Not because of the soup kitchen's environment, or even the fact that an unkempt man was yelling my name, but because the man greeting my family on Christmas had been there, wearing the same exact clothes, on Thanksgiving.

That Thanksgiving, my family and I had worked at the Salvation Army soup kitchen. There were many families, couples and friends eating together, as well as many volunteers helping. Occasionally one person would come in and eat alone. Others would eat, then plead for more food to take with them.

Still others were like Charlie. He sat in the back while others came and went. He ate and talked, had some coffee and talked, ate another plate of turkey and then talked to a new person. Occasionally, he would pull down his worn Broncos jersey around his stomach and smile as he chatted with someone new. I was serving pie when I met Charlie. His chapped hand shook mine as he introduced himself.

"Might as well have a sweet instead of a fifth helping of dinner," I suggested. He let out a boyish giggle as I set it on the table.

"Thank you so much!" he exclaimed. Then he began to talk about how he wished all food was as good as pie.

After exchanging good-byes with a few folks and the women who ran the kitchen, my family and I headed home. I reflected on the people I had met. Other than their clothes, they seemed just like me and my family. It was hard to comprehend why they were eating in this basement and I was going to a beautiful home for Thanksgiving. Although I was happy to have done something for the "less fortunate," I found myself believing that these people were just having a run of bad luck. The soup kitchen should not be someone's reality.

It was only a few weeks until Christmas and I had already forgotten my day at the soup kitchen. My thoughts revolved around the countdown to winter break. Although I was slightly upset when my mom told me we would be changing traditions so we could work the soup kitchen again on Christmas, I thought, Oh well, it will be good for my community-service sheet.

Before I could cross off the twenty-fourth on my calendar, it was Christmas. We awoke to towers of presents followed by a delicious breakfast. Later, we went to the Salvation Army. I watched out the car window as we passed through the "bad" section of town. As we pulled into the parking lot, I realized that there had been few decorations in the neighborhood around the Salvation Army. People were walking alone on the streets as we drove past with our Christmas music booming. There seemed little Christmas spirit. Then I saw Charlie, wearing the same jersey and hat from Thanksgiving. I realized, despite my prior conclusion, that this is reality for Charlie and the others who depend on the Salvation Army soup kitchen.

That day I understood that community service is not meant to make us feel good about ourselves, or even to show us other lifestyles. It is about giving joy to others. I saw it in Charlie's eyes and smile. I had given him some joy and made his day when I remembered him. Whether the joy was a warm meal or just a friendly smile, it meant something to Charlie.

Before that Thanksgiving, I had done many hours of community service for various organizations, but I never put as much effort into it as I do now. I strive to give joy to people. Not only do I feel the fulfillment of giving something to another, but I learn through these experiences. Many people may never have these life-changing experiences because it will always be true that "you get back what you put in."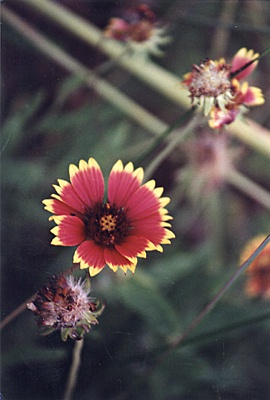 © Brian G., Phoenix, AZ